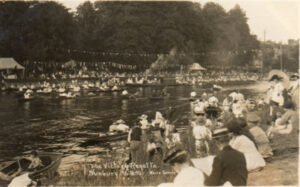 The regatta at Sunbury had not taken place since 1913 due to the First World War, the 1914 fixture having been cancelled as it was due to take place a couple of weeks after war broke out. So it must have been with a great sense of relief that life was returning to normal, that the regatta was reinstated in 1919. It was known as the 'Victory Regatta' as the Versailles peace treaty, which officially ended the war, had been signed a few weeks previously.
The regatta took place on the old course between 'Monksbridge' and the finishing line at 'Weir View' (a house which used to stand by the river, opposite St. Mary's Church) on Saturday 16th August. It was a day of glorious sunshine, and the regatta was judged to have been the most successful for many years.
As can be seen in this postcard, one of a series produced to mark the event, spectator boats crowded the river on both banks, and Kings Lawn (which was then the private lawn belonging to Sunbury Park House) formed the main viewing enclosure. People also congregated on Sunbury Lock Island to watch – this was not covered with trees as it is now. Prominent amongst the crowds were dozens of men still in uniform.
Some were still serving (the huge army motor transport depot at Kempton Park was still being wound down), and some were recuperating from wounds, such as New Zealanders, wearing their distinctive 'lemon squeezer' hats, from the hospital at Mount Felix next to Walton Bridge. Besides the usual sculling and punting events for gents and ladies, amateurs and tradesmen, there was a special 'Victory Cup' single sculling event, open only to amateurs serving in H.M. Forces, which was won by Lieutenant A.H.F. Lukyn, whose family lived at 'Weir View'.
Prizes were presented by Lady Freer-Smith, whose husband Sir Hamilton Freer-Smith was President of the regatta. Proceedings concluded with decorated boats and a firework display, as they do to this day, although the swings and roundabouts continued to provide amusement until nearly midnight.
The Sunbury & Shepperton Local History Society will have displays of old regatta photos at both Chertsey & Shepperton Regatta on Sat 27th July at Dumsey Meadow, and Sunbury Regatta on Sat 10th August at Rivermead Island. Do come and visit our stand.