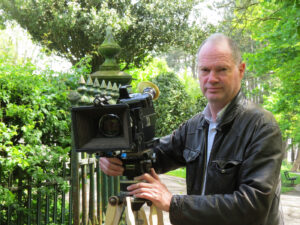 Few people today know about the Llandow Air Disaster, which happened on Sunday 12th March 1950. It is, after all, beyond the memory of most people alive today, but when an Avro Tudor 5 came down in a South Wales field, just yards from a safe landing at RAF Llandow, eighty people on board the aircraft died and it became what was then the world's worst aviation disaster. And it has a connection with Shepperton, because the pilot, Captain Dennis Parsons, lived for a very short period with his wife and daughter in Sandhills Meadow.
And that is why I am writing this article, for I am making a documentary film about the tragedy and I am hoping that it may be possible, through this magazine, to make contact with surviving relatives of Captain Parsons. I live in South Wales, roughly ten miles from where the airliner crashed, and it affected many Welsh communities because the 78 passengers on board the aircraft were all rugby supporters, returning from a trip to Ireland where they had watched, only hours earlier, Wales beat Ireland to win the much-coveted Triple Crown. Only three people survived the crash because they happened to be in the rear of the Tudor – all five crew members died too.
This particular aircraft, called "Star Girl" and based at Langley Aerodrome near Slough, had flown in the Berlin Airlift of 1948-49, ferrying fuel supplies into the beleaguered western part of the German city, and Captain Parsons had been at the controls, so he was well familiar with it. But on its ill-fated journey, seemingly a routine charter flight from Llandow Aerodrome to Dublin Airport on Friday 10th March, and then the return flight two days later, it had four other crew members: co-pilot Andrew Graham, wireless operator Bernard O'Carroll, supernumerary engineer John Berry and air stewardess Daphne Davidson, all young people aged in their twenties.
The outward flight was routine and so, until the very end, was the return journey. But on the final approach to the runway at Llandow, the Tudor came in very low – too low, according to witnesses – and then attempted to correct its rate of descent by applying power. The engines went into full throttle and the aircraft was seen to climb steeply before stalling and diving into the ground.
Nobody knows for certain what happened to cause the crash, but the subsequent Court Investigation pointed to the likeliest reason being that the aircraft's centre of gravity was too far aft of its accepted limit – in other words, the Tudor was carrying too much weight to the rear and this made it all too easily uncontrollable. Other possible reasons were put forward, and the cause will never be truly determined.
The fact that this is now a largely unknown incident has prompted me to make a film about it in the hope that it will serve as a fitting commemoration to the tragedy for its seventieth anniversary next year. If you have any information on Captain Parsons or any other members of his crew, please contact me at Downwood Films, 13 Marlpit Lane, Porthcawl, Glamorgan, CF36 5EG, or by email: anthonyhontoir@hotmail.co.uk
by Anthony Hontoir
Photos: Anthony Hontoir on location