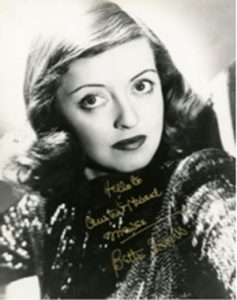 The July Sunbury & Shepperton Arts Festival features an evening with Austin Mutti-Mewse who along with twin brother Howard, have an unusual story to tell – one of more than just a brush with Hollywood. More a life lived alongside its stars.
We all had the odd pen pal or two when we were younger. Our parents encouraged us to write letters, and wasn't it fun getting mail? But Austin and Howard went one better. They wrote to and were befriended by Hollywood!
There's is a story more fantastical than the plot of the movies the actors in 'I Used to be in Pictures' were in.
Erstwhile 11 year old twins from leafy Surrey – quaint England, who embark on a journey of discovery by way of writing fan letters to a plethora of faded film stars they had watched on the Saturday BBC Movie Matinee on their Grandmother Violet's jalopy of a television set. What they discovered were famous lives once lived; some languishing in a world befitting Sunset Boulevard's deluded Norma Desmond whereas other's humble about their past glories.
Their accent, youth and their look and the interest they bestowed on their pen pals were such an attraction that word spread and the network of correspondents grew. Over the course of 30 years the twins were in contact with around 600 stars, from screen icons (Elizabeth Taylor, Bette Davis, Bob Hope) to the lesser lights including the final Munchkins from The Wizard of Oz. Magnificent or minor, all relished being wanted again.
Letters quickly made way to phone calls – dozens a week (the twins took Saturday jobs to pay the phone bill), Marlene Dietrich would call at 3am from Paris (much to the annoyance of their father), Hedy Lamarr from Florida, Ava Gardner from London.
When they were 18, Ginger Rogers and her 'Follow the Fleet' (1936), co-star Joy Hodges, invited the boys to California. Making pit-stops with their pen-pals, Austin drove Joy's classic Mercedes to lunch dates with James Stewart, BBQ's at Frank Sinatra's and partied at Bob Hope ultramodern Palm Springs mansion.
What the twins found they could offer was undivided attention and interest. They were happy to listen to stories of a bygone era of glitz, glamour and success told by film stars from their wheelchairs or their beds. This innate ability to listen and marvel was the tonic many of these fading stars needed. The twins were great sounding boards, polite and interested and the memories and gossip of the golden years of movies came gushing out.
A book 'I Used to be in Pictures', telling the unlikely story of a lifetime of friendship with the stars has been championed by the likes of Julian Fellowes, Tommy Hilfiger and even David Beckham, and last year was optioned by British Indie film company MAD AS BIRDS. Already being dubbed 'Billy Elliott without the ballet', I for one, can't wait to see it.
For now, you can go and hear the tale for yourselves at the Riverside Arts Centre, Sunbury, where copies of the beautiful book will also be on sale at a discounted price (£25.00 – RRP £35.00). The event will be on July 11th so book your own brush with Hollywood now. (Programme and booking details are in the centre of this issue). Box office 01784 257 175