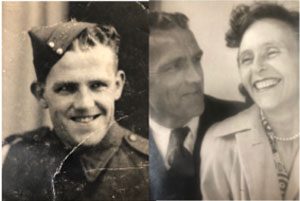 June 6th marks the 75th anniversary of D Day, the Normandy landings of the Allied invasion during World War II.
We put a call out in Sunbury Matters a couple of months ago asking if anyone had any local connections and we were delighted to be contacted by Colleen Short who lives in Lower Sunbury. Her father, Stan Barnacle served during D Day. He was only 23 at the time and was a pilot of a landing craft which brought large number of troops off the warships and on to the beaches of Normandy.
She was able to share with us a letter he had written to his sister only 18 days after the event where he talks in broad terms about his experience. "D Day and a few more days and nights were a big worry for me with those hundreds of boys lives in my hands, but God was good, thanks. We went through minefields without knowing and Gerry was shelling plenty, but we didn't know about the mines. Perhaps it was best." then he adds "tell mum not to worry…I am having splendid food" and he signs off "Take it easy and we will all soon be down the 'Royal' with big pints"
The letter bears beautiful hand writing, despite the dreadful conditions Stan was living in and there is so much concern shown in it for family members who might need reassuring, as well as a good deal of humour. "tell Dad his biggest headache is coming when Phil (his brother), Frank (brother in law) and I come home and get him down the Royal".
The letter itself also shows a number of interesting influences of language. Stan uses the terms "swell", "folks" and calls his sister "Toots" all American-isms from his allies.
Although not an overly religious man, Stan makes many religious references, the war clearly focused his belief in a guardian, a higher power who was looking out for him.
Although letters got through, they took time and the post was not 100%. Stan mentions that his wife Kath (Colleen's mother) had not had a letter he had sent to her. Spare a thought for her, waiting for news of her young
husband from the war zone, while she had been evacuated and was about to give birth to their first child.
The end of this tale is a happy one. Stan did indeed return, as did his brother and brother in law. We hope they shared that almighty headache after "big pints" at the Royal.
Stan went on to become and headmaster of a secondary school in South East London.
Many thanks to Colleen Short for sharing her father's story with us. She says he would be chuffed to bits to be remembered here.