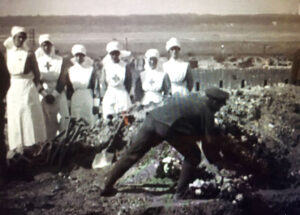 On the evening of 16th May 1915, twenty-eight-year-old Captain Thomas Percival Croysdale took shelter for the night in his trench on the Western Front, separated from the German lines by only a few hundred yards and the barbed-wire entanglement of No Man's Land. Midnight passed and in the early hours of the 17th May a German shell fell and started a train of events which would end in tragedy for his family a little over three and a half years later.
The exploding shell caused Captain Croysdale minor facial injuries and temporary deafness but records show that he also suffered from 'extreme shock' and tremendous 'headaches'. Only three days later, on 20th May, he was back with his family at Hawke House, Green Street, Sunbury-on-Thames. War Office records show that Captain Croysdale was treated with great sympathy and concern, far beyond a normal reaction for relatively minor physical wounds, it has to be speculated that the event was far more traumatic than reported and that the officer may been buried alive in his 'dugout' as a result of the explosion.
Thomas was brother to five sisters and the only son of local Magistrate and former High Sheriff of Middlesex, Thomas Croysdale, Justice of the Peace, and his wife Beatrice. The youngest member of the Croysdale family was Marjorie, born in 1893. She was at home to greet his return to Hawke House and was clearly deeply affected by her brothers ordeal because in a matter of days, in June 1915, Marjorie enrolled at The London Hospital and began a whirlwind course in nursing, culminating in her joining the Queen Alexandra's Imperial Military Nursing Service as a Probationer Nurse.
Marjorie had enjoyed a privileged upbringing, educated at Wycombe Abbey School for Girls from 1907 to 1912 before attending 'Miss Baird's School of Domestic Economy in Malvern to be 'finished', as was fashionable. She was described as being 'quiet and reserved' yet showed to her friends a 'richness of character that made her strong, sane and a much-loved Head of House' at Wycombe Abbey.
Marjorie was 'essentially a person of action, always restless if she could not be at work, and whatever job came her way she did with an artists love of good work well done'. Marjorie loved the outdoors and she wrote 'I glory in this lovely country', she said her best times were in the 'wild places of the earth, moors and mountains and open spaces' where she could, 'ramp all over the country!' The Great War and how it touched her personally, changed all that for ever.
On 10th October 1916 Marjorie Croysdale embarked to France, probably in response to the terrible slaughter on The Somme where 295,000 British soldiers were wounded and 125,000 were killed. By chance, her brother, now a Major was wounded once more only three days later on 13th October. Marjorie served at several Field Hospitals, eventually becoming a Nursing Sister. By the end of hostilities, on 11th November 1918, Marjorie was working at the 24th Field Hospital, Etaples, about sixty miles West of the frontline.
Apart from the obvious horrors, life in the hospital complex at Etaples had many physical dangers for the staff there trying to save life. The Germans conducted numerous air-raids on the hospital and caused huge damage, by the war's end the hospital had suffered 102 people killed and 286 wounded. Both patients and nurses were amongst the dead and injured, the German bombs did not discriminate.
Queen Alexandra Nurses view the placing of a wreath at the burial of victims of an air-raid on Etaples Hospital, 31st May 1918. One of these nurses may be Marjorie Croysdale.
Despite the horror and danger, Marjorie remained upbeat, and true to the description of her character, railed against inactivity. In a letter home she wrote, 'My work is pathetically boresome at present; in fact, I feel ashamed of being paid for it'. She did not remain idle for long and a short while later wrote, 'For three days I have scrubbed and cleaned, cleaned and scrubbed, and tomorrow we are going to make up 80 beds and take in patients'. Her letters home were always humorous and made light of the daily difficulties. She made jokes about the icy conditions freezing drugs solid in their bottles and of skidding and paddling about in the mud between the tents in which they lived.
Although the slaughter in the trenches ended on 11th November 1918, the dying did not. An epidemic surged across the world, labelled the 'Spanish Flu'. Estimates of the death toll vary, as many as 50 million may have died globally, with approximately 3 million deaths in Europe. Marjorie Croysdale stayed in France and nursed the victims. Perhaps inevitably the nurse became the victim and Marjorie contracted the illness which developed into pneumonia. On Sunday 2nd March 1919, aged only 26 years, Nursing Sister Marjorie Croysdale died.
Marjorie was buried at Etaples Military Cemetery, to lie along with 11,516 others, 20 of whom were women. The cemetery and graves are maintained in pristine condition to this day by the Commonwealth War Graves Commission.
The Grave of Marjorie Croysdale. Etaples Military Cemetery.
Marjorie Croysdale did not have to become a nurse and did not have to go to France. She did not have to face the horrific sights of terrible wounds, broken bodies and broken minds. She did not have to shiver in the cold, slither in the mud, face German bombs or live in a tent with only the most basic of comforts, year after year. But she did. She volunteered to serve, to provide comfort and service to her fellows and because she put herself there, she paid the ultimate price, as surely as the men in the trenches did.
March 2nd, 2019 marks the centenary of the death of Nursing Sister Marjorie Croysdale. Her name is recorded, along with the many male victims of The Great War on the memorial in Green Street, Sunbury-on-Thames, so close to the house she grew up in. She truly earned her place amongst the hero's names remembered there and is rightly honoured with them.
The Memorial. Green Street, Sunbury-on-Thames.
The final lines of Marjorie's obituary in her old school gazette movingly state; "Her death leaves an unfilled gap in the lives of those who loved her. Yet it seems fitting that she should have died at work and what she herself would have wished. She gave her work ungrudgingly, and of her, of all people, it may most fittingly be said, 'Rest in Peace'."