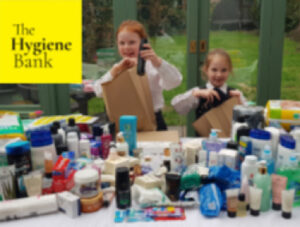 The Hygiene Bank is a national, registered charity and has launched in Sunbury-on-Thames to help alleviate some of the impacts of poverty in and around the local area.
Hygiene poverty is an issue that has come to the fore in recent years. 14 million people in the UK live below the poverty line. Four and a half million of these are children, two thirds of whom live in a family where at least one parent works, and 1.9 million are pensioners.
These figures are sadly getting worse. As people are faced with the choice of buying food or hygiene products, understandably, food will take priority.  People stop buying toiletries long before they go to a food bank, and 37% have had to go without hygiene or grooming essentials due to lack of funds.
Within 6 months, The Hygiene Bank has already distributed over 13 tonnes of hygiene products, amounting to a conservative retail value in excess of £182,000, they've become a registered national charity with over 160 locations across the UK. The Hygiene Bank is also as committed to raising awareness as it is to receiving donations and has recently started a Kickstarter campaign #ITSINTHEBAG which you can learn more about via the website.
So, how does it work? The Hygiene Bank encourages the community to donate new and unopened toiletries and essential beauty/grooming products via collection boxes situated in retailers, service providers, public services. Members of the public are also encouraged to be collectors for their office, colleagues, friends and family, church, sporting groups, book clubs, scouts/guides etc.
Donated products are sorted into essential toiletries and gifts (e.g. for our Christmas campaign) and further subdivided by product type e.g. body-wash, Shampoo, sanitary teeth etc. The products are then re-boxed or bagged according to type and distributed to beneficiary charity partners, who in turn give them out to families and individuals in crisis. 
One very important part of our ethos is what is donated local, helps local so all our projects help the very local community you live in. The Hygiene Bank is rapidly growing and the Sunbury community has already been very generous with donations coming in. Sunbury Library has kindly offered to be our first community drop-off point.
We're currently looking for more businesses to get involved offering to become a drop off or collection point or even by offering donations. Thank you so much to everyone who has donated so far. For anyone that can't get to a drop-off point we also have an Amazon wish list set-up specifically for Sunbury-on-Thames.
Please get in touch if you would like more information; if you would like to become a beneficiary partner; or if you're a local business that would like to get involved.
The Hygiene Bank Sunbury-on-Thames:
Email: THBSunbury@gmail.com
Website: www.thehygienebank.com
Sunbury-on-Thames Amazon Wish List: http://amzn.eu/grkN6Da
Please help us spread the word and follow The Hygiene Bank Sunbury-on-Thames on social media:
Instagram @thbsunbury
Facebook @thehygienebanksunbury