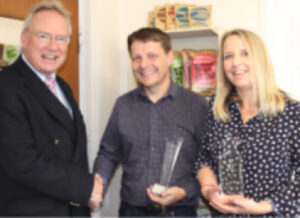 Spelthorne's 2nd Spelthorne Means Business awards were declared open for entries after a launch party held at The Hazelwood Centre, home of London Irish, on Thursday 7 March. Sunbury Matters was in attendance.
Guests at the launch comprised last year's winners, including Brown Bag Crisps, who were named both Exporter of the Year as well as Business of the Year 2018. (Phil and Viv Lambe, pictured above. We profiled them in Sunbury Matters in January this year).
Charlotte's Chickens, another of last years winners are profiled in this issue. This years sponsors also attended, joining Spelthorne's Deputy Mayor Mary Madams and Leader Councillor Ian Harvey in officially declaring the awards open for entries.
There are twelve categories to choose from, and entry is free. Five new categories have been added this year offering local businesses even more opportunities to showcase the wealth of innovation and success in the borough.
Speaking about the awards, Cllr Harvey said: "I set up these awards last year to recognise our hard working local companies and showcase our thriving business community. No matter how large or small your business is, it's a great opportunity for you to celebrate your business and your people".
Cllr Colin Barnard, Portfolio Holder for Economic Development and Planning, said: "Businesses who win awards benefit from a boost to brand awareness, increased credibility in the marketplace, escalating staff morale and a surge in attractiveness to potential employees".
Businesses must have a trading address in the Borough. Online entry is live until September 30, with the awards dinner being held on October 17 at Shepperton Studios.
Categories are as follows:
Exporter of the Year
Creative Business of the Year
Best New Start up
Healthy Business Award
Best Business in Staines upon Thames BID
Independent Business of the Year
Best Small Business
Best Business in Staines/Laleham
Best Business in Ashford/Stanwell
Best Business in Shepperton/Charlton
Best Business in Sunbury/Halliford
Best Corporate Social Responsibility
Overall Winner
Full information regarding criteria and how to enter are on the Spelthorne website: www.spelthorne.gov.uk/article/16882/Spelthorne-Means-Business-Awards.
You are also welcome to send an email to s.moralee@spelthorne.gov.uk or call
01784 444223 if you have any questions.
Good luck to all of you. Don't be shy. You could be this years winners!