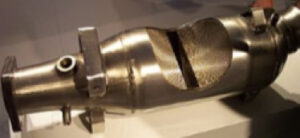 We were contacted recently by the owner of a Honda Jazz who had their catalytic converters removed in broad daylight by thieves in the Sunbury area. Owners are being left with bills of hundreds of pounds. Having shared this information on social media we realised that this is now a widespread issue. Vehicle owners are urged to be vigilant especially as the cost of repair can be very considerable.
A recent report in the Daily Telegraph reports on the issue at a national level: "Thieves are cashing in on six-year highs in prices for the rhodium, palladium and platinum in the devices.
The metals, which clean cars' toxic gases, can be recycled for use in jewellery, dentistry and electronics and command prices of up to £2,000 an ounce, twice the value of gold."
The instance we were told about involved a white male aged between 20 and 30 years who was driving a black Vauxhall Astra (no registration number noted). Neighbours reported seeing him loading his booty into the Vauxhall car but did not realise until later what was happening.
What's the attraction for thieves? Well, the catalyst itself is most often a mix of precious metals. Platinum is the most active catalyst and is widely used, but is not suitable for all applications because of unwanted additional reactions and high cost. Palladium and rhodium are two other precious metals used. Rhodium is used as a reduction catalyst, palladium is used as an oxidation catalyst, and platinum is used both for reduction and oxidation. Needless to say, catalytic converters have a scrap value! But apparently new legislation introduced 6 years ago made it illegal to sell scrap metal for cash.
This, coupled with a fall in the value of scrap metal reduced crime for a while but this latest spate indicates the spoils are just too good to ignore as values have risen so sharply. The Telegraph reports "4X4s such as Shoguns have also been targeted by the gangs, because they have a high clearance off the road making their catalytic converters accessible. Honda Jazzes and Accords are also favoured because their older devices are particularly easy to reach and rich in the precious metals.
A professional gang can jack up a car and use a battery-powered steel cutter or angle-grinder to steal the catalytic converter within five minutes….Police have advised etching security details into the converters, installing extra bolts or protective sleeves to make them harder to cut out and "defensive parking" against a wall or by another lower-slung vehicle to make it more difficult to reach under."
On another matter we were shocked to hear about conmen who are operating in the area, targeting older/vulnerable people. If anyone knocks on your door who you are not expecting DO NOT let them in without checking credentials first. Don't take their word for it that they are "working at the neighbours who have a leak" etc. And if anyone calls purporting to be from your bank put the phone down and call your bank to check.