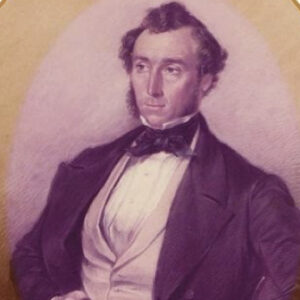 I have mentioned William Schaw Lindsay in a previous article about the great flood of 1877, but I thought I would outline a bit more of his very full life. He was Lord of the Manor of Shepperton from 1857 until his death 20 years later, and during that time did much to reform the village. Perhaps his most lasting achievement was to bring the railway to Shepperton in 1864, after the collapse of Walton Bridge made access to the nearest station at Walton problematic.
The siting of the railway station, north of the old settlement near the river, led to the subsequent development of the High Street area, and the eventual growth of the village as a commuter suburb. He built estate cottages in the High Street (these have since been replaced by maisonettes), and promoted the Enclosure Act of 1861 which brought much of the former common land into private ownership and cultivation.
Lindsay had a passion for cleaning up the village, and had a spat with the parish authorities over his demolition of the derelict parish lockup, which used to be situated near the Three Horseshoes at the lower end of the High Street. He describes the incident in his book 'The History of Our Village'.
Away from the village, Lindsay was a merchant and ship-owner, as well as the Liberal Member of Parliament for Tynemouth and North Shields from 1854 to 1859 and for Sunderland from 1859 until his resignation on grounds of ill-health in 1864.
He was born in Ayr in south-west Scotland on 19 December 1815. He lost both his parents by the time he was ten and was brought up by his uncle, the Reverend William Schaw. Reverend Schaw wished him to follow the same calling but he instead left home in 1831 and worked his passage to Liverpool on board a collier. He was subsequently engaged as a cabin-boy aboard the West Indiaman Isabella.
In 1834, he became second mate, but soon afterwards received severe injuries following a shipwreck. On his recovery in 1835 he became chief mate of the Olive Branch, a merchantman owned by a Mr. Greenwell of Sunderland. In 1836, he was appointed captain of the vessel and, in 1839, when in the Persian Gulf, he was wounded during an encounter with a pirate (whom he promptly shot dead). He retired from the sea in 1840.
Lindsay found further employment with Greenwell in 1841 as an agent for the Castle Eden Coal Company in Hartlepool where he played a part in the town becoming an independent port, and helped to create its docks and wharves. In 1845, he moved to London to represent the company. With the coal-fitting business he combined that of shipbroking and an agency for his brother-in-law, a Glasgow iron merchant. He established the firm of W. S. Lindsay & Co., which soon became one of the largest ship-owning concerns in the world with 220 vessels, and he retained his connection with it until ill-health compelled him to retire in 1864.
Lindsay was an unsuccessful parliamentary candidate for Monmouth in April and for Dartmouth in July 1852, but was elected for Tynemouth and North Shields in March 1854. He continued to represent Tynemouth until the April 1859 general election, when he switched to Sunderland.
During the American Civil War (1861-65), Lindsay supported the bid for Confederacy recognition and spoke on their behalf in Parliament. In 1865, he was forced by illness to retire from public life. After his retirement, Lindsay occupied himself with literary work. He died at Shepperton Manor on 28th August 1877 and is buried in a prominent tomb at Shepperton Cemetery, off Church Road, the land for which he gave to the parish.
Lindsay's book 'The History of Our Village' has been reprinted by the Sunbury and Shepperton Local History Society, and is available from local outlets such as Squire's Garden Centre, as well as via the Society's website www.sslhs.org.uk