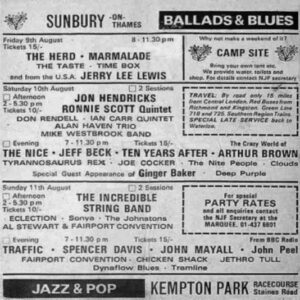 This month many of you may be attending music festivals. Just look at this line up for the 1968 music festival at Kempton Racecourse. Can you imagine? The National Jazz and Blues Festival preceded both Woodstock (1969) and Glastonbury (1970's) and is considered the precursor to the Reading Festival. There are still local residents who were there 50 years ago and who remember camping out over the weekend and seeing these amazing acts: Jerry Lee Lewis, Jeff Beck, Deep Purple, Eric Clapton, Jo Cocker, Tyrannosaurus Rex (before they became T Rex), Jethro Tull.
Was this the original music festival? Glenn Cornick, one of the founders of Jethro Tull considers the concert at THE event when the band knew they were going to be a success. It was that important to the music industry.
The marquee was nothing more than a large tent and a stage. We are lucky enough to have found a photo from the event (see below).
Local residents were "treated" to the sound of the bands from neighbouring roads so even if you didn't get a ticket you still felt you had been there! Tickets were 15 shillings for the Saturday evening, which to those young ones out there was 75p!!!
The weekend was not without dramas. Arthur Brown set his hair on fire, and a walkway collapsed under the weight of those sitting on it, injuring 74 people. But that weekend 50 years ago this month was a milestone in musical history.
The Daily Record 917/8/68) was quoted as saying "Plagued by disaster and countless setbacks The Sunbury Festival presented some of the best musical entertainment ever seen".
There is more information on the website www.ukrockfestivals.com/sunburymenu.html. Do take a look at this epic event which was on our doorstep and which has been such an impact on the music scene.