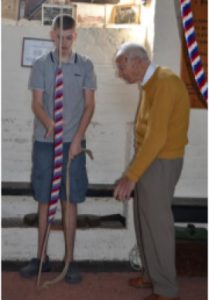 A couple of months ago we reported on local teenager Ben Neale (pictured right) who is learning bell ringing from Dennis Brock at St Mary's as part of his Duke of Edinburgh Awards. Dennis has been instructing bell ringing for very many years, and it was amusing to read this account from a previous pupil, Doug Boniface, who Dennis introduced to the skill in the 1950's.
It was a Wednesday evening some time in Autumn 1958 and I was bored. I was bored most Wednesday evenings – no scouts, no youth club, too dark to go and kick a ball about in the street with friends (or so my parents said) and to cap it all my friend Derek was off doing 'churchy' things so I couldn't go to his house to play snooker. I had assumed that Derek's 'churchy thing' was choir practice and I was not one to be heard singing in public. But no, this 'churchy thing' turned out to be bell ringing and Derek suggested that I came along. He also pointed out that once you could ring, you got paid 10 shillings if you rang for a wedding!
Derek had forewarned the tower captain Dennis Brock that he had a new recruit and so the next Wednesday at 7pm I arrived at St Mary's church, Sunbury on Thames, for a tied practice (Tied practice means that additional equipment is used to stop the bell from making sound). Dennis took me up to the belfry to see the bells and explained what happened when the bells were rung. I was surprised to see that whilst most of the bells had their open end facing downwards, one bell had its open end facing upwards. It was upside down if you like. At Dennis' command, Derek, still downstairs in the ring chamber, started to pull.
At first, I just heard the creaking of the bell fittings, then to my surprise, the upside-down bell started to topple. It gained speed at an incredible rate and swang full circle before coming to rest once more upside down.
After a bit more explanation we descended to the ringing chamber and I was given my first lesson on handling a bell. I soon became aware that there is a lot of skill in safely handling a bell. Just think, you're trying to get control of several hundred kilos of fast moving metal and the only clue you get as to what's happening is what you can feel on the end of a rope in a room several floors below.
Although for the first 6 weeks I would have 30 minutes of mostly private tuition on a tied bell, I was encouraged to stay on when the rest of the band started to arrive. The band rang a variety of call changes and methods, and in between practice pieces Dennis would fit in a bit more solo practice for me.
Gradually, and with help, I started to be included in things that the others were ringing. Eventually I was deemed safe enough to be allowed to ring unaided with the rest of the band. It was with a mixture of excitement tinged with a little nervousness when I took hold of a rope having been told "We'll ring the back size. Doug, you ring the 3rd". There were only six of us in the room. Everyone had to ring so there was no one to help out if I got into difficulty. But I had no cause for concern. Dennis was a very cautious instructor. There was no way he would let anyone loose on the end of a bell rope if he wasn't 100% sure they could handle it.
As we approached spring and the lighter evenings, Dennis pointed out that there were several local churches within easy cycling distance that would welcome visiting ringers. The first tower I visited was Oatlands Park. As I entered the ringing chamber the tower invited me to join in.
As my first practice at a 'foreign tower' ended, I was approached by one of the ringers who told me that he was the tower captain at Hersham and if I wanted a bit more ringing I would be welcome at their practices too. I was soon to find that this friendship and hospitality was common throughout the ringing fraternity. Through nearly 60 years ringing and probably over a 1000 towers visited, there has only been one occasion when I was not made welcome.
I started ringing because it was better than being bored at home. Ringing then became a challenge to make the wretched bell do what I wanted it to and once let loose unaided on an open bell, the challenge became to make the bell strike in the right position amongst the others.
Ringing also became a social thing. Scouts, youth club and kicking a ball about with friends may have faded into the background but as I started to ring at more and more towers, my circle of friends and acquaintances in the ringing fraternity grew enormously. Now nearly 60 years later I have a hobby I enjoy that still presents me with challenges and a social circle that extends across the country.
My instructor in those early days of ringing, Dennis Brock, has become a bit of a celebrity. In May 2017 he featured in an article in the Daily Telegraph as possibly the world's oldest still practicing bell ringer (he was then 98). He has been awarded the St Mellitius Medal in recognition of his long service to the church, the Diocese of London and to the world of bell ringing. There are also several YouTube videos featuring Dennis talking about his experiences as a prisoner of war during WW2 which were filmed in the ringing chamber of St Mary's, Sunbury on Thames.
If you fancy trying your hand at bell ringing, Dennis is still instructing. Initially please
contact St Mary's via the office: office@stmarys-sunbury.org
By Doug Bonniface