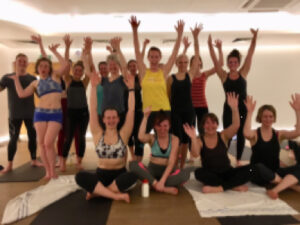 When I was invited to try hot yoga at the newly opened studio at The Thames Club, just outside Laleham, I was a little nervous. Although I do Pilates regularly, I am the one that sits under the air conditioning. I am not overly keen on visiting tropical countries either. I tend to wilt! So knowing that I would be in a 40C environment AND holding yoga positions, I felt this was going to be a challenge!
I arrived to find the previous class just coming out. They were rather red faced to say the least. But what I also found was how upbeat they all were. "Good luck" one told me with a cheeky grin as the sweat dripped down his face.
Amanda Free is one of the UK's leading pioneers of hot yoga. She discovered it's amazing benefits when she was living out in Los Angeles and brought it to the UK in 1995. She has been key in the design of the Thames Club studio and she teaches several of the classes there every week. She is enthusiastic with a great sense of humour and gets to know all her students. The class I joined was about 16 strong, but she had time to monitor us all and correct even the slightest errors in posture and postioning. It is essential to be properly positioned to avoid putting unnecessary pressure on any limbs and back.
Hot yoga has proved extremely popular with athletes such as Andy Murray and David Beckham. The fact that you exercise in heat increases oxygenated blood flow and gives a strong cardio work out. I certainly can attest to my heart beating like the clappers! The heat of course also opens the pores and at the end of a dripping work out I felt immensely cleansed.
If you are in training it will improve performance and perfectly complements a strength training programme through its ability to improved blood flow to muscles. Working out in heat is addictive. It is difficult to explain. I had heard this before I joined the class, but I can indeed state that I felt in a state of euphoria, stretched and cleansed in every sense.
The camaraderie in the group was brilliant. We were all red faced and sweaty and we didn't care. At the start of the class I had been adamant that I would not be exposing my white and slightly untoned belly to the world, but after only 5 minutes, all modesty went out of the door as we all shed unnecessary items of clothing. I spoke to a number of students.
The club had only opened in January but many had become hooked on a hot work out very quickly. One lady was doing her third class that day! "When I don't get my fix I really miss it" she said. There is a variety of classes on offer and a dozen or so instructors available. Each has their own style. Both yoga and pilates classes are scheduled for 60-75 minutes. Once a week there is a relaxing candle lit yoga session.
So why not give it a try. The Thames Club is the only venue in our area offering a hot studio. For this month only you can try for 2 weeks unlimited for only £20. By that stage you will be addicted! I must say my final accolade is that I slept better after my evening of hot yoga than I have done for a very long time.
The Thames Club, Wheatsheaf Lane, Staines upon Thames, TW18 2PD
Call 01784 463100 and quote Village Matters for your discounted offer.