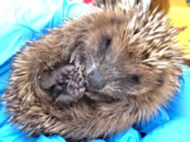 So many people I have spoken to about this wonderful charity have never heard of it. We want to change that!
A couple of years ago Sharon Johnson was at home with husband Bob in their house in Old Charlton Lane. Jack Russell, Holly, was snuffling about around the decking and was clearly trying to tell them something. When they investigated they found 6 baby hedgehogs (hoglets). Their mother had been killed and they were defenceless. That is where the journey started! Sharon was compelled to do something for these little ones but realised there was no help locally. She got some advice and did what she could for the them.
Hedgehogs are in decline. Even over the past 10 years or so we have seen notably fewer on the roads or in our gardens. Since the 1950's we have lost around 2/3 of the little creatures as we rip out hedging, put up fencing, pave drives and gardens, put down Astroturf and use slug pellets in the garden. We have taken away their natural habitat.
Sharon did a course at the British Hedgehog Preservation Society. She bought some equipment and she started taking in hedgehogs in need. Each hedgehog is given a name and has a detailed observation and treatment sheet. When we visited we saw "Gerry" (above) who was 2 weeks old. He had been found in a local garden abandoned by mum and having been pecked at by a hungry bird. Poor little creature was only about 4 days old and totally defenceless. Sharon has been caring for him since, up at night to feed and attend to his needs.
At the time I visited Sharon was caring for 4 hedgehogs which in time will be rehomed and released into a safe local environment. She has had as many as 14. She has been mainly funding her venture herself but donations are urgently needed. She has just paid out £500 for an intensive care unit so is undertaking significant costs herself.
 
How can you help?
Find Shepperton Hedgehog Sanctuary on Facebook and "like" the page to follow it. https://www.facebook.com/sheppertonhedgehogsanctuary/
There is also a website so have a look: www.sheppertonhedgehogsanctuary.co.uk. You can find out what the sanctuary does, and what you need to do if you think you find a hedgehog needing help. The Autumn is a particularly important time of year when underweight juveniles need help to make it through the winter.
You will also find a wish list where you can click on a link and purchase an item which is needed. It will be send directly to Sharon or you may choose to simply make a cash donation. The charity is self funding. If you can spare some money for either items of a cash donation it would go a long way to helping.
Maybe you could become a sponsor and offer practical help. Sharon would love to hear from you if you have experience of applying for funding too.
Finally, you might live in a place which would be a good habitat for a hedgehog in which case you may want to offer to rehome one.
Why not call and see if you can help and let's see if we can increase the wellbeing and numbers of these charming little creatures.
Contact Sharon via the website or Facebook.