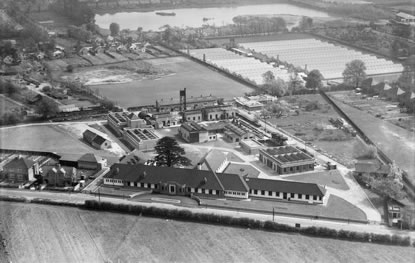 One hundred years ago, during the First World War, the then Anglo-Persian Oil Company founded its research centre in Sunbury. Anglo-Persian had been founded in 1909 as a result of a large oil find in Persia, the first of the big Middle Eastern oilfields.
By 1914, the influence of Winston Churchill had seen the Admiralty acquire a stake in the company, to secure a source of fuel oil for the navy, which was gradually converting its ships from being coal powered. The navy however reported problems with the oil when used in cold climates.
Anglo Persian therefore acquired the 18th century Meadhurst House at Sunbury (which was empty after being used to house Belgian refugees at the start of the war) as a laboratory to investigate this and other issues, to be run by Dr. A.E. Dunstan and Dr. F.B. Thole as research chemists. The house and three acres of land cost the grand sum of £937.
An attraction was the large basement which was used as the actual laboratory, enabling the two men and their families to move into the house – the only staff! It was soon realised that more space was needed, so more land was acquired and a purpose built research department was built. Interestingly, the brand name of British Petroleum originally belonged to a German company, which used it to market its products in this country.
Its assets were seized during World War One, and Anglo-Persian acquired both the name and the UK distribution network. Meanwhile, in 1935, Persia changed its name to Iran, so to follow suit, the name of the company was changed to Anglo-Iranian. The following year, Meadhurst was demolished, and new buildings were erected on the site.
The name did however survive, being transferred to the sports and social club across the road. The site grew rapidly, another huge boost to development being World War Two. Valuable work was done at Sunbury in researching special high octane fuels to power legendary aircraft such as the Spitfire, and later to solve the problem of getting huge quantities of fuel over to the continent after the 1944 Normandy landings. This eventually became PLUTO (Pipeline Under The Ocean).
After the war, research returned to more peaceful avenues such as improving the performance of petrol for cars. In 1954, the company finally changed its name to B.P.
In more recent years, the research function at Sunbury has disappeared, to become B.P.'s International Centre for Business and Technology, with virtually all the old buildings swept away and replaced by modern glass and steel structures. Of course, with the acquisition of the site by Spelthorne Council last year, it is now owned by all of us!
An exhibition on the history of BP at Sunbury is on show at Spelthorne Museum in Staines until the end of the year. Admission is free.
See www.spelthornemuseum.org.uk for opening details.