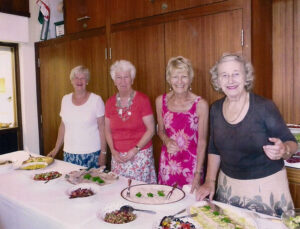 Do you recall the startling discovery last year that Shepperton is one of the happiest places to live in the country? Do you ever query this on a grey day when you are stuck in a queue at Marshalls Roundabout or contemplating the building which once housed Barclays Bank?
Well one reason why Shepperton is so pleasant is because the villagers are kind, generous people, who care deeply about the village and its amenities.
Sometimes we take things for granted and later regret this to our cost.One wonderful treasure which we have in Shepperton is Saint Nicholas Church standing proudly in Church Square. Many years ago it used to be in the centre of the village until the railway arrived and the village gravitated towards the new and exciting transport system.
Today the Church is looked on affectionately by the village community. It is rather like an elderly uncle, always there when needed but a bit creaky and in need of some tender loving care from time to time. This fond attitude towards "St. Nicks" was demonstrated when the Church was celebrating its 400th Anniversary in 2014. This coincided with a major building problem and the village was invited to "Buy a Brick to Save St Nicks". Shepperton residents and small business owners from all walks of life and from all faiths, Christian and non -Christian, put their hands in their pockets to generously support the Appeal.
In 2011 it had been realised that the Church needed friends from within the village community to help solely with the ongoing costs of keeping the building in good repair(not for major projects) and a committee was formed which led to the founding of the Friends of St. Nicholas. Since this time the Friends have provided help with numerous things such as new flags for the flag pole,restoration of a notice board commemorating local war heroes and a kneeler for weddings. An important project has been to help with the restoration of the grave of Thomas Love Peacock our own eminent poet.
Friends have taken part in sponsored walks, fund raising concerts and visited Westminster Abbey. One of the most popular activities has centred round delicious food provided by the Friends team at a series of winter suppers and in the summer at the occasional garden party.
If you would like to learn more about the Friends of St. Nicholas or , better still, become a member yourself, thus helping to support the old "Uncle" with some T.L.C. then please contact Hilary Grimes, our Treasurer, on 01932 989358 or emai:hiltonyg@talktalk.net
It is not incumbent upon you to be a member of the Church, just someone who wants to help preserve this lovely old place of worship for future generations.