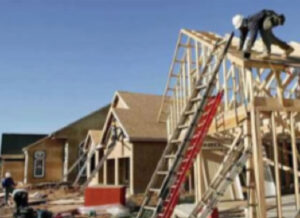 It has all gone crazy! Everywhere I turn there are new houses springing up. We understand there is a housing crisis and that the demand for more housing has never been so great.
We are looking at possible reclassification of green belt land so that the changed rules allow for more sites to be developed. We also hear about greedy, bullying developers using any method possible to get planning approved on green spaces.
I read an article in the national press recently which stated that with the population in the UK set to hit 70m within a decade, pressure has never been so great to supply new housing. Kempton Park shows the arrogance of land owners and developers. The Jockey Club announced the news of the sale of its racecourse as a done deal.
With Spelthorne Council (not to mention the majority of locals AND the racing fraternity) dead against it, surely such a development will not happen. If only! Some how I doubt Redrow and JCR will let anything stand in their way. Appeals for schemes of 10 or more homes have doubled in 5 years. That shows the pressures developers put councils under.
Local councils have been tasked with providing a 'local plan', outlining, amongst other things, land available to fulfil a housing quota. According to a report by Savills, the estate agent group only 33% of councils in fact have a five year land supply. Spelthorne Council does indeed have a local plan, but what are the areas earmarked for development as part of it? Our borough council has just applied for a further loan of £80m which puts their borrowing (at very preferential rates of interest) at over £450m. This is earmarked for property and land purchase. (One must hope that we will not be looking at a property crash any time soon!)
So, we see a surge in new housing on the one hand. But we can't get away from news of cuts, can we. The fire service is being cut, bus routes cut, the doctors surgeries are at bursting point and children can't find school places. So, can we be assured of extra funding for schools and health centres to follow on the heels of expansion of housing? We are told that the UK has fewer GPs per head than any other European country.
We also have fewer hospital beds per head. The NHS is on its knees. If you are referred by the GP for a hospital appointment you are unlikely to be seen within 2 weeks even if it is urgent. For routine referrals you can expect months of waiting. Just how our health centre is meant to operate a 7 day service is beyond me. For one thing, they don't have the money. To cap it all we hear that their service charge has just been put up by some 200% by their landlord…the NHS Property Services itself!
Perhaps we should not be surprised at the proposed increase in council tax by 15%. Of course, in the end, we householders are going to be the ones who have to plug the gap.
Personally I sympathise with the councils as funding from central government is cut. It can't be easy as the extra pressure on resources marches on. Good for Spelthorne that they are being innovative in their self-sufficiency, as seen in their recent property purchases.
But seriously, something has to give!