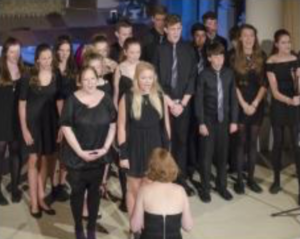 Sunbury has lost a great talent, a great personality and a great inspiration. After a battle with cancer, Emma Dow passed away in the Sam Beare Hospice, aged 45, with her family at her side in November 2016. She has left a huge legacy within the community and touched many lives.
Emma is known for many things: being a great friend, having a quick and wicked sense of humour and for being the "best" Aunty, to name a few. But to many youngsters in the area, she was of course a Director with the Riverside Youth Theatre. She herself started there when she was 11. Acting was always her first love and among her many roles, her depiction of the Wicked Witch in The Wiz was a triumph. After university at Oxford Brooks, where she read English and Music, she pursued her love of drama when she joined the Shepperton Players.
But Emma particularly loved working with youngsters and she soon became a leading light of Riverside Youth Theatre where her humour and encouragement made her a very popular figure.
At her memorial service in Sunbury, a former member of RYT said that Emma probably didn't realise what a lasting influence she had directly had on the youngster's lives.
Before her cancer was diagnosed, Emma had become a governor at Chennestone and Beauclerc schools, where she had been a pupil. She continued with this for as long as she possibly could, and was sad to have to resign.
In 2014 Emma was diagnosed with a rare and incurable form of lung cancer. She continued working as long as she could and made the most of her time by travelling and making lasting memories with friends and family. "Life is for living. Not moping." was her attitude entirely.
In October 2016, RYT entered the Spelthorne Drama Festival. Emma directed their entry, rehearsing her cast of two until just a couple of weeks before she died. The play won several awards – best Youth Play, the Technical Award, and Emma won Best Director! She was thrilled and so proud of her young cast, but sorry that she was too ill to collect the Award herself.
The special service at St Mary's showed how very loved Emma was. It was standing room only as friends, colleagues, neighbours and family crowded in to mark her life together. There were many tributes, moving and funny. Emma's young nephew, James, had written a fabulous poem called "Wonderful Aunty". Emma adored her nephews, cheering them on at the children's regatta, taking them out for drives in her beloved convertible car, beating them at pool, cards and Monopoly and spoiling them as only Aunties can.
We heard from members of the RYT who had written a special poem to their incredible teacher, mentor and friend. They sang movingly for her and it was evident just what an influence Emma had been on these youngsters.
We also heard Emma's own hilarious regatta report about the infamous Phoenix Finest Dongola crew, their training and their success. It was brilliantly written, with warmth, humour and interest.
Finally we watched a recording of Emma herself singing in St Mary's, from the very spot Father Andrew was standing on. This was for a concert she had organised to raise funds for the Friends of St. Mary's. Her rendition of Bob Dylan's "To Make you Feel My Love" had many in tears, and made
the sense of her loss deeply felt.
Emma Dow will be sadly missed. To have contributed so much to the lives of so many is quite an achievement. Our thoughts are with her family at this very sad time.