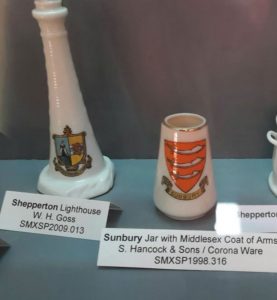 During this holiday season you may be lucky enough to be getting away from it all and discovering new places. The concept of getting away from it all is nothing new, but the destinations are. Imagine if your annual leave took you to Staines! Well with the coming of the railways to our area in the mid 19th C, riverside towns and villages became easily accessible from London, so Staines, Sunbury, Shepperton and Laleham would have been holiday destinations. You may have seen some of the old wooden holiday homes by the river, mostly now reconstructed as glamorous modern day river homes. At the time, they were for weekend and summer retreats.
The tradition back then of course was to send a postcard, often with few words, but it marked the fact that you were away, somewhere new. The post at the time often delivered twice a day and postcards only cost 1/2 an old penny, ie about 0.2p in todays money.
But holiday makers also liked to mark their get aways with souvenirs of the places they had visited which they could display on the mantel piece. These often displayed the name and crest of the place concerned. The Spelthorne Museum houses a great selection of local knick knacks, including the rather incongruous Shepperton lighthouse! (see photo).
There were many producers of crested china at the time. Goss was probably the most well known. The Goss factory opened in Stoke on Trent in 1858, producing unglazed figures, busts and pots. During the Victorian period they produced crested china for several places within Spelthorne including Sunbury, Shepperton-on-Thames and Staines. There was also a design for Laleham which included the Lucan arms.
If you are planning a Staycation this year, why not pop down to the Spelthorne Museum and have a look at the souvenirs of a holiday by the Thames from times gone by.
Opening times:
Elmsleigh Room (through Staines Library), with information on the history of Spelthorne: Monday-Saturday 9am-6pm. (Tues/Thurs 7pm and Saturday 5pm)
Thames Room where there are further
displays is open Wednesday and Friday 2-4pm. Saturday 1.30-4.30pm
Spelthorne Museum
1 Elmsleigh Road, Staines, TW18 4PM
www.spelthornemuseum.org.uk