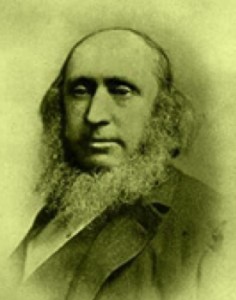 Those of you who use Facebook, and who are part of the Sunbury on Thames group, will no doubt have been enlightened by Gavin Worrell's many postings on Sunbury, including history and some fantastic photos. Gavin has allowed us to reproduce some of his postings for those of you who are not on social media.
"When I was at school in Sunbury our 'Houses' were named after Dickens, Jerome and Blackmore. The latter was my own house, named after R D Blackmore. A popular novelist of the mid to late 1800s and owner of an outrageous pair of side burns and beard, Blackmore set 'Kit & Kitty' in Sunbury, written in 1890 and set here 25 years earlier.
Kit lived with his uncle, a market gardener whose house was just along Fordbridge Road. The novel makes many local references including the collapse of the wooden bridge at ford bridge due to flooding as well as visits to St Mary's where his uncle had his own pew and where he first met Kitty. It gives an interesting social historic insight into life in Sunbury in the middle of the 1800s. It is out of print now but you can find it on-line for free.
And now to something entirely different: dead bodies and Martians in Sunbury… brought to you by English novelist H G Wells in his classic masterpiece, and personal favourite of mine: 'The War of the Worlds'.
It is a science fiction novel first serialised in 1897 in the UK by Pearson's Magazine and in the U.S. by Cosmopolitan magazine. The novel's first appearance in hardcover was in 1898. Written between 1895 and 1897, it is one of the earliest stories that details a conflict between mankind and an extra terrestrial race.
The novel is the first-person narrative of an unnamed protagonist in Surrey and that of his younger brother in London as Earth is invaded by Martians.
The novel has been variously interpreted as a commentary on evolutionary theory, British imperialism, and generally Victorian superstitions, fears and prejudices.
This work was a major inspiration for many born in the early 1900s who later dreamed of rocketry and space flight and was often cited by the 'rocket men' of Peenemunde. Here on the isolated and remote German Baltic Coast they developed the V Rocket* weapons for the Nazis before going to America to work for NASA and ultimately land the first man on the moon.
Anyhow, in the novel our chap passes through Sunbury from the direction of Weybridge as he heads to London. It is no longer copyright protected so you can find War of the Worlds free to read on line.