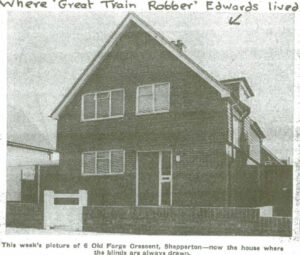 I recently visited the Museum of London's excellent (if gruesome in places) exhibition of items from Scotland Yard's Black Museum, connected with infamous crimes. One of the displays was about the Great Train Robbery of August 8th, 1963, when a gang of robbers held up the Glasgow – Euston mail train in Buckinghamshire, and escaped with £2.3 million in used banknotes – a huge sum at the time, and worth about £50 million today. This reminded me of how Shepperton played a small part in the story, when one of the robbers hid in the village whilst on the run from the police.
When some residents of Shepperton opened their newspapers in late August 1963, they realised that two suspects wanted in connection with the robbery were a couple known to them as 'Mr & Mrs Green', who had been living in Shepperton for the previous three weeks. In fact the couple were Ronald 'Buster' Edwards, 32, and his wife June, 31, together with their two year-old daughter Nicolette. Although local people were quick to inform the police of their discovery, by the time police officers arrived from Hampton on the 1st September, it was too late, and the house was deserted.
Edwards and his wife had been staying at 6 Old Forge Crescent (just off Shepperton High Street), the £4,500 detached house being rented through Gale and Power, the High Street Estate Agents.
After the news broke of just who had been living in their midst, several local traders remembered their dealings with the couple. Mr R.A.Pavey, of L.A.Sumner Ltd, greengrocers in the High Street, recollected serving them twice. "They came in about three weeks ago, all three of them, and bought some tea and other goods. I also remember that they were in here again only last week". Mr Pavey, who had been at the shop 38 years, also said: "I know it sounds funny, but I was suspicious even before the pictures came out".
Another person with personal experience of 'Mr and Mrs Green' was the manageress of the High Street dry cleaners. She said that she had been given two piles of laundry and dry cleaning by the couple, and that they had collected only one of them. The second bundle still awaited collection.
Mr R.L.Hughes, the service manager at Shepperton Service Station, also remembered 'Mr Green'. "He came in last Monday," he said, "in his Morris 1100". Mr Hughes explained that 'Mr Green' had come into the garage before Monday because the car was not running properly, and had arranged for it to be given a 6,000 mile service, although it had covered only 3,000 miles. Mr Hughes also remembered that a little girl had been with the customer, and perhaps not surprisingly, he had paid in £1 notes!
After his narrow escape in Shepperton, Edwards went abroad and lived in Mexico for over three years, before tiring of his life on the run overseas and returning to give himself up to the authorities. He was sentenced to a lengthy term of imprisonment. After his release he became a familiar figure selling flowers at Waterloo Station.
'The Mitchison Family in Sunbury', major landowners in the village, are the subject of the next meeting of the Sunbury and Shepperton Local History Society, on Tuesday 19th January at Halliford School, Shepperton, starting at 8pm. All welcome, admission £2 for non-members.