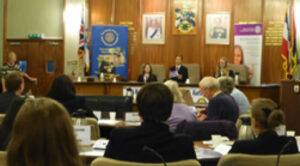 The ability to stand up in front of an audience and be able to give an address, is always going to stand you in good stead. Think of that best man's speech, making a sales presentation or standing up and asking a question at a public meeting. The ability to communicate clearly and put a point across with conviction is a skill most of us need to hone. How wonderful therefore to attend the Youth Speaks competition recently. This is a public speaking competition for 11-17 year olds. Run by the Rotary club of Shepperton Aurora, it is held in the Spelthorne Council Chambers once a year.
There were six schools represented and ten different teams; four intermediate teams, made up of 11-13 year olds represented St James' School, Bishop Wand, Thomas Knyvett and the Matthew Arnold School. Each team had a chair, who had two minutes to welcome the audience, introduce the team and outline the chosen theme. The speaker then had six minutes to present the subject, develop the theme and make their points before concluding. After fielding a question from the panel, a vote of thanks was given by the third member. It was very fitting that this was happening in the council chambers. The walls must have born witness to so many presentations of all sorts over the years!
I was struck by the confidence of these youngsters. Although some read a script, the vast majority only referred to notes. They delivered therefore a natural and compelling address, many in a calm, clear and measured way. Roco Priestley from Bishop Wand Intermediate team (a self confessed 'pocket rocket') was outstanding and rightly awarded the Chair cup by the judges. Emily Vanstone was speaker for the team and also picked up the cup for best intermediate.
The subjects covered by the teams ranged from comical to serious, and little Anoushka Vail from Matthew Arnold put over a thought provoking appeal to us all to do more to stop global warming.
There were six teams in the intermediate category with Sunbury Manor and St Paul's joining the previous four schools. The intermediate category is open to 14-17 year olds and presented us with some very confident speakers and subjects; euthanasia, corporal punishment and organ donation amongst others. But there was also a humorous look at colour and its role in our life and vocabulary which was a fascinating subject delivered brilliantly (with no notes!) by Dalvina Koone from Thomas Knyvett. She was rightly presented with the senior cup for speaker -for the second year I gather.
Overall Bishop Wand won the intermediate group and Sunbury Manor triumphed in the seniors.
I applaud this initiative. It will set these youngster up for life. Well done to the teachers for their coaching and for Rotary for giving them the chance to develop their public speaking skills.
Finally, welldone to all the teams and individuals. You were amazing!