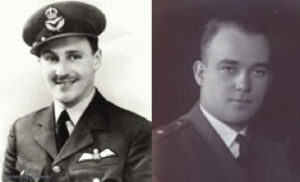 Sunbury will be marking a remembrance on October 18th this year, the date when two brave RAF fighter pilots lost their lives 75 years ago, whilst attempting to land at Kempton Park Racecourse. Kempton Park have agreed for a plaque to be erected in memory of the pilots, Peter Carter and Jan Borowski.
The terrible tragedy occurred on the 18th October 1940. 302 squadron had been scrambled by controllers to patrol the Maidstone line for raiders from their base at RAF Northolt. The weather conditions were terrible with total ground fog making it almost impossible to fly. Peter along with Pilot Officer Jan Borowski, who was on his first sortie with 302, were ordered to make an emergency landing in their Hurricane Mk1.s by their squadron leader and told to land at Kempton Park Racecourse. Sadly Jan crashed first and was killed in his aircraft and Peter jumped at 50 feet before his Hurricane hit Kempton. Jan was 28 and Peter only 21 years old.
What makes the story so remarkable is that there is an eye witness to the event who has shared her story. Brenda Telandar, who is now 85, saw the incident happen when she was just 10 years old. She recounted her tale to local Brian Gates who was researching the event and who has since campaigned for a lasting tribute to the men.
The following are Brenda's words:
"I was sent on an errand by my mother to collect a pound of sausages from the butchers. Rather than returning via Manor Lane, I decided to go via French St. I turned left into Staines Rd and was walking towards the White Lodge Garage. All of a sudden there was a tremendous roar and a loud explosion. The first plane came down fast and blew up on impact setting the fence and trees alight.
"Then the second plane came and was breaking up, bits seemed to fall in the field nearby. As I stood there, a pilot fell from the sky, landing 25-30 feet in front of me in the road. There was no movement, but his parachute had been deployed as it came down over his body. Both planes had crashed onto Kempton Park. I was so shocked I was rooted to the spot. As bullets started to explode and fire in all directions a warden picked me up to get me out of harm's way and I ran home via Manor Lane."
Brenda added that the White Lodge Garage no longer exists, but that the site is nearly opposite the end of Batavia Road.
Relatives of Peter Carter will be attending the ceremony on the 18th October and two relatives of Jan's will be flying over from Poland.
Brenda told Brian Gates about this incident about a year and a half ago. At the time they had no idea who the pilots were or the aircraft involved. Brian was fascinated with her story and begun to research it for her and his own interest. If anyone else has any information about the incident, Brian would be glad to hear from you.
Please email info@villagematters.co.uk.
Both pilots names appear on the Battle of Britain Memorial on Victoria Embankment.
They represent a tiny fraction of all those pilots, ground crew and service personnel who gave their lives for their countries – and the freedom we enjoy today