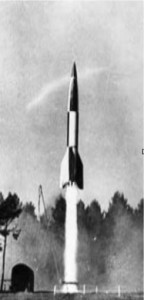 This month marks the 70th anniversary of a V-2 rocket strike on Sunbury during WW2. At 0410 hours on September 15th 1944, the rocket, some 46 feet long, weighing 13 tons and carrying a one ton high explosive warhead, struck the Sunbury Works of the Metropolitan Water Board (MWB) beside the old Hanworth Road (A316). It had been launched about five minutes earlier by a German artillery unit, Battery 485, located 200 miles away from Sunbury in the suburb of Wassenaar on the outskirts of The Hague in the Netherlands. After launch it had risen to a height of 50 miles before hurtling down to arrive at Sunbury with a supersonic impact speed approaching 2500 mph. Unlike the earlier V-1 'doodle-bug', whose distinctive noise warned of its approach, Hitler's newest V-weapon the V-2 ( Vergeltungswaffen – reprisal or Vengeance weapon) arrived unannounced on a slumbering Sunbury.
A wartime file (Ref.1) comprising a daily handwritten record of V-2 attacks, shows the Sunbury V-2 as incident No14 dated Sept.15th 1944, which came just one week after the very first rocket attack on London on Sept.8th 1944, when fatalities occurred at Chiswick. It was fortunate that our V-2 landed where it did, as there were no casualties, although a substantial embankment between a reservoir and filter beds was damaged, along with a 30 inch diameter water charging main and other ancillary equipment.
A further wartime file (Ref.2) contains several reports on the incident, including a detailed site plan marking the exact point of impact, and a number of photographs which show the damage caused and repair work being undertaken. A form BC4 notes "Red and White flash of explosion seen by guards at POW's camp (Kempton Park) – duration 2 to 3 seconds." How ironic would it have been had the V-2 landed on the German prisoners at nearby Kempton!
Several houses in Ashridge Way, Sunbury, were only 200 yards from the explosion and suffered damage to windows and roof tiles. The residents truly had a rude awakening that morning (Ref.3).
Many of the wartime documents make frequent reference to 'BB' incidents, shorthand for 'Big Ben', the wartime code name for all V-2 attacks.
In the early days of these attacks, a worried Government initially attempted to conceal the cause of the explosions to prevent any panic, and explained them away as 'gas main explosions'.
However, the public were not fooled for long and soon began sardonically referring to the V-2s as 'flying gas pipes'. Churchill finally admitted to the existence of the rockets on November 10th 1944, just two days after the Germans themselves had broadcast the information, and after more than 100 rockets had already hit London.
Although nothing could be done to intercept the incoming rockets, British Intelligence services were able to convince the Germans that the rockets were over-shooting the London target by 10 to 20 miles. This was done by sending deceptive reports on the location of impact sites via the German espionage network in Britain which was being successfully controlled by the British 'Double-Cross System'.
This tactic proved to be effective, and as the Germans reset their rocket range parameters, many of the rockets began to land in the less heavily populated areas of Kent.
One thing we can truly be grateful for is that the Sunbury V-2 landed 480 yards away from the magnificent MWB Engine House, a gem of British architecture (National Monument No 153), which is now the home of the Kempton Steam Museum.
It houses two 1000 ton, 62 feet high, triple expansion steam engines. One engine has been fully restored and can be seen running in steam on various weekends throughout the year. It may be of interest to note that the nearby 'Hanworth Loop' of the MWB small gauge railway project, is situated just 300 yards from the now empty Sunbury filter bed site where the V-2 ended its flight.
Ref.1 Home Office File HO198/178 National Archive, Kew
Ref.2 Home Office File HO192/629 National Archive, Kew
Ref.3 'River Gardens' by Lynda Kiss – Amazon Books
Ken Battle is a member of the Sunbury & Shepperton Local History Society.