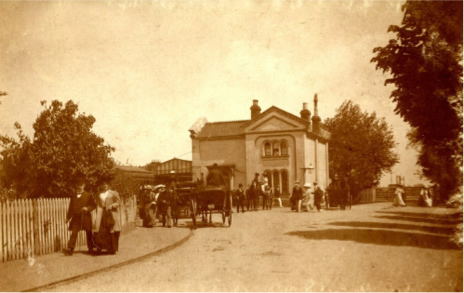 September always seems to be a busy month for heritage in our area, so this month I thought I would highlight several events and anniversaries.
2014 sees the 150th anniversary of the opening of the Thames Valley Railway, the original rather grandiose name for the branch line from Strawberry Hill to Shepperton.
To celebrate the anniversary, there will be a free Gala event at Hampton Station on Sunday 7th September, from 10am to 5pm. The Bluebell railway is bringing an old London and South Western Railway steam locomotive, of a type which used to serve the branch, plus a period coach. These will be displayed alongside the station at a new 'Platform 3'.
There will also be a display of old buses commemorating the part buses played in World War One. Sunbury and Shepperton Local History Society will have a display on the history of the line, and there will also be model railways, a locomotive from the newly-restored Kempton Park steam railway, plus a transport collector's fair.
With World War One very much in people's minds at the moment, Spelthorne Museum is promoting a 'War Memorial Trail' to link up the war memorials in our Borough and encourage people to visit them and learn something of the people from their communities who gave their lives. A leaflet giving details of the war memorials is available from local libraries and the museum in Staines, and information is also available on the museum's website, www.spelthornemuseum.org.uk. The museum will be producing a DVD later this year containing details of all Spelthorne's Fallen from World War One. The Museum exhibition on 'Spelthorne In World War One' continues.
Heritage Open Days is an annual free event which encourages people to look at their local heritage, particularly buildings. It takes place from 11th-14th September, and details of openings can be found at www.heritageopendays.org.uk. Several of our local churches will be open, which will give people a chance to visit ones which they are not familiar with, and this year to look at the war memorials which many contain. St. Mary's Sunbury is open on Sat 13th 10am-4pm and will also have a display from SSLHS. St. Peter's Staines will be open 2-4pm on the 13th and has a war memorial window. St. Mary's Staines has memorials, a WW1 drum of the Middlesex Regiment, and a window donated by the Kaiser before the war, in memory of his nanny! Also open on Sat. 13th, 2-5pm.
Finally, the month is also the start of the history talks programme for the 2014-15 season. I will be speaking to SSLHS about 'Sunbury and Shepperton in World War One' on Tues 16th at Sunbury Sports Assoc. in Lower Hampton Rd, and to Spelthorne Archaeology and Local History Group about 'The History of Heathrow' on Thurs 4th at the Fordbridge Centre, Ashford. Both talks start at 8pm, admission £2 for non-members.