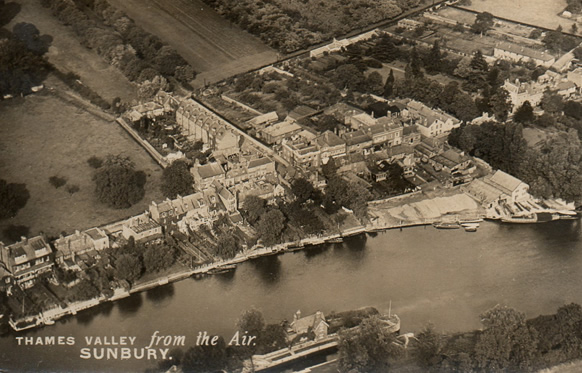 This photo of Sunbury village from the air shows the Thames Street area essentially unchanged from today. A noticeable difference is the lack of houses in The Avenue beyond the Rope Walk, which were built from the 1930s onwards.
The parade of shops in the Avenue wasn't added until after World War Two. Further along the Rope Walk to the right are a range of glasshouses – these are against the back wall of the extensive grounds of Pomfret House, which can just be glimpsed among trees on the right of the photo. The site of this house is now occupied by Berkeley Mews. At the bottom of the photo is Sunbury Lock, with the second lock keepers house dating from 1856 visible. All that remains of this house now is the plaque carrying the date and the Thames Conservancy badge, set into the side of the lock. Fortunately Orchard Madow, on the left of the photo, has remained undeveloped.
More old photos of Sunbury can be seen in 'Sunbury and Shepperton in Old Photos', published by the Sunbury and Shepperton Local History Society, available from Squire's Garden Centre.