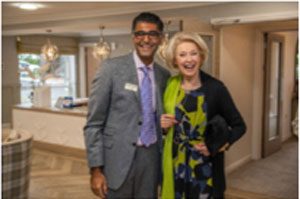 Less than a year ago I met staff from The Burlington at the Shepperton Fair. It had not opened and we didn't really know what to expect from the home which had been built on the site of the Bradbury Centre. One year on and we know that The Burlington has become firmly integrated within local life and has welcomed several residents into its special care.
Beaming founder Ameet Kotecha welcomed guests. This young man has created a dream environment which is nothing like my idea of a 'care home'. The finish, décor, furniture etc would not be out of place in an upmarket hotel. There is a cinema, private dining room, courtyard garden, bistro and piano bar.
The welcome is possibly better than an upmarket hotel! If you are a local, you are welcome to attend coffee mornings every Wednesday for a natter a, coffee and something sweet (by donation to Alzheimer's Society). Local groups, both young and more mature, are offered meeting space.
Ameet explained how his mother had brought him up to offer a warm welcome to one and all, making visitors feel at home. That is certainly the essence which has been conveyed to all staff members at the new establishment. "I would like to thank staff and managers for making this house a home" said Ameet proudly.
The grand opening was a packed affair, with local VIPs, councillors, the Mayor of Spelthorne as well as many of those who has made the dream a reality. The official unveiling was done by Diana Moran, who was immensely touched to be presented with a £300 cheque for her charity, White Lodge. She declared of the hotel "If I need to move into a care home, The Burlington would be my first choice!" I must say, I concur!
After a buffet lunch, white doves were released as a symbol of new beginnings.
The community effect was even felt in the entertainment on offer. Manygate Lane resident Stephane Booroff (below) played drums along with the band who were playing 40's and 50's sounds to the delight of all.
Stephane plays with the Blue Notes, the Holiday Inn, Shepperton Sunday Jazz which you can enjoy over lunch once a month (June 9th, July 7th and August 18th)