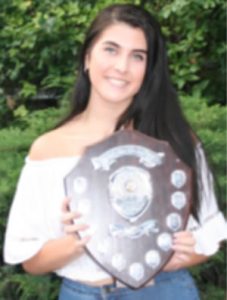 Congratulations to pupils from Thamesmead who proved again that the school really does have talent. The annual battle of Thamesmead's Got Talent saw 16 entries. Auditions were held over 3 days earlier this year and thereafter followed two months of rehearsing.
The Rotary Club of Shepperton & Sunbury sponsored cash prizes and Richard Black was one of the judges.
Acts varied from singing, dancing, guitar, drums, clarinet, piano and comedy. It was tough judging such diverse acts, but the judges were in agreement with the winners who were Jessica Upton, Lucinda Durham, Scarlett Griffiths and Bethan Scammell for their dance routine to A Thousand Years. In second place was Isabella Litvak for her rendition of 'Evermore'.
Third place was joint in the end, shared between Annabelle Harris and Millie Pearson for their gymnastics routine and Loresa Leka who sang People Help the People.
The Rotary Club KS4 Most Promising Performer Trophy was this year awarded to Caris Oldman (Y11) for her outstanding contribution to music at Thamesmead over the past five years.
 
Headmaster Mr Rodin made a farewell speech as he will be retiring at the end of this term. He leaves the school in good shape however.
Thamesmead has recently had an Ofsted inspection and continue with a 'Good' rating. The school had some excellent feedback from Ofsted including comments such as:
 
"Strong leadership aims to ensure that the school provides the best possible standards of teaching and learning."
 
'Staff are fully committed to the school motto 'where learning comes first', and provide a wide range of opportunities and support for pupils."
 
"The house system has been successful in developing relationships between different age groups further, and has reinforced a real feeling of belonging."
 
"You are rightly proud of the success that the school has had over the last few years in improving outcomes for disadvantaged pupils."
 
"Previous examination results indicate that pupils make strong progress across many subjects by the end of key stage 4."