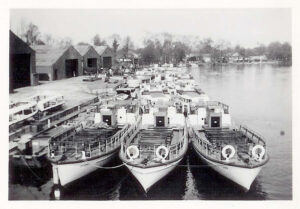 This fascinating picture shows the works of the Walton Yacht and Launch Company, situated in Shepperton immediately downstream of Walton Bridge.
The company was started in about 1930, and built boats in the large hangar-like sheds, which were then launched down slipways into the Thames. During World War Two, production switched over to high speed launches, particularly for the RAF. If this seems strange, the RAF still had large numbers of flying boats at the time, which needed launches to service them. My grandfather, Russell Rosewell, worked there during this period.
After the war, the company came under the control of R.G. Odell, who built a large fleet of passenger ferries for use in London, especially in connection with the Festival of Britain in 1951 when vast numbers of people visited the exhibition on the South Bank (the Festival Hall is the only reminder there now). All the boats were given names that started with 'O'.
Those seen here include 'Ocenia', 'Oat' and 'Obe'. Each was about 63 feet long and could carry approximately 140 passengers. Others were built for the Ford Motor Company to ferry workers from London down to their massive factory on the estuary at Dagenham, and were given suitable names such as 'Ford Consul'.
When the works closed in the 1960s due to a lack of further orders, the slipways were filled in (although their location can still be seen) and the buildings converted by Laconite Ltd to produce their range of decorative wallboard. This company closed down in turn in the 1980s, and the empty factory was an indoor go-karting arena for a few years before being demolished in advance of redevelopment. The site is now occupied by the Swan Walk development of houses and flats.
More old photos of Shepperton can be seen in 'Sunbury and Shepperton in Old Photos', published by the Sunbury and Shepperton Local History Society, available from Squire's Garden Centre.