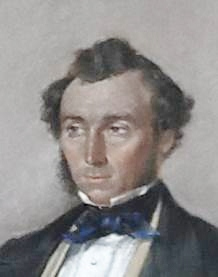 Villagers will know about Shepperton Manor but not many will know about one of its past inhabitants, William Schaw Lindsay. Who was he? What did he do for Shepperton?
At the height of his fame in the 1850s and 1860s he was living in the Manor house. He was MP for Sunderland, advisor to the Government on shipping matters, author of an eminent book on Merchant shipping, owner of fifteen ships and Broker to hundreds more. His company was the largest ships brokerage in Britain, if not the world.
Not only was he a friend to influential and important men in his time, including prime ministers Disraeli and Gladstone, and government officials Cobden and Bright, but a man taking an active interest in his local village.
Lindsay was born in Ayr, Scotland in December 1815. He was orphaned by the time he was ten. He wrote, "From that moment I felt I was a child of poverty whose lot was to earn my bread by the sweat of my brow." Brought up by his Reverend Uncle, he ran away to sea when he was fifteen, and after five years had worked his way up to become Ship's Captain. He handled coal transportation from N E England down to London, and then decided to set up his own ships brokerage in the City.
In his first year the Company's profit was £1000. His ships transported equipment to the Crimean War, assisted in emigration to Australia and New Zealand, and traded with the United States shipping out iron railway tracks and returning with cotton.
He purchased Shepperton Manor in 1856 and set about improving the neighbourhood, building houses, establishing the railway to extend to Shepperton, donating land for a cemetery (where he buried), and assisting in magisterial and church matters. His friend Sir Joseph Paxton drew up a plan for a model village for Shepperton, and although some houses were built, it was never completed.
During the American Civil War (1861-1865) he backed the Southerners and believed that they should gain independence from the United States. He was convinced that the war was due to unfair taxation of the South, and not emancipation of slavery, which was adopted as a cause later in the war. He accommodated the Southern ambassadors Mason and Sliddel in the manor house.
As an MP he lobbied the Government to recognise independence for the South, and even visited the French Emperor Napoleon III to do the same. Prior to the war in 1860 he had travelled to the Northern States, primarily on shipping business, where he met President Buchanan and President-Elect Lincoln.
In 1864 he had a paralytic seizure and was confined to a wheelchair until his death in 1877. During this time he set about writing his memoirs, and collating his correspondence with influential people in his day, such as Livingstone and Brunel. His diaries and papers are now held in the National Maritime Museum in Greenwich.
Much of his work has never been read and, as I feel it is of historical interest, I am in the process of transcribing it. He was my great-great-grandfather.