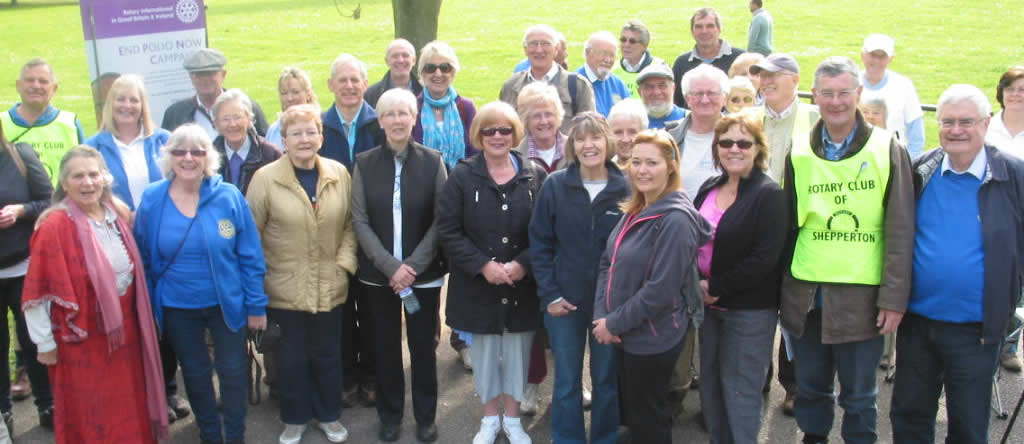 The Rotary Club of Shepperton & Sunbury 10k Sponsored Charity Walk 'The Waterways of Shepperton' last Sunday 4 May was acclaimed by those who took part another great success for the fourth year running. Geoff Williams who led the walk this year said "It was the most perfect day of sunshine without being too hot and the route along the waterways and nature reserve is stunning". The ages of the walkers ranged from 12 years to late 70's and all who took part managed to complete the full 10 kilometres.
Approximately 50 Walkers supporting over 12 different Charities took part and are expected to have raised over £4000. All the sponsorship money collected by individuals or groups of walkers will go directly to their own sponsored Charities.
The Charities supported by the walkers included Allan Freeman Trust, Altsheimers UK, Carer's Support, Connect, Home-Start Spelthorne, John Lyall Charity, Parkinson's UK, Princess Alice Hospice, Strawberry Hill Overseas and Community Concern (SHOCC), Spelthorne Civic Pride Volunteers, St Nicholas Church Restoration Appeal, TALK Surrey supporting people with aphasia, the Rotary Club Benevolent Fund and in particular Rotary's campaign 'End Polio Now'.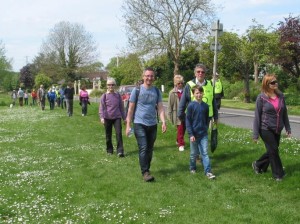 Special congratulations must be given to the two walkers and trustees from SHOCC, Dr Kevin Cook and Mrs Elisabeth Byrne Hill who managed to raise between them over £1250 including Giftaid.
Peter Routley of The Rotary Club of Shepperton and Sunbury, who instigated the annual walk three years ago, said he is delighted that so many came and enjoyed the morning and managed to raise the much needed funds for their Charities. Carol Cooper of the John Lyall Charity commented "The walk was very successful for our Charity and very pleasurable for us who took part. So far we have raised £628 (including Giftaid) with some more still to come in".
If you are looking to raise money for your particular favourite charity contact Peter for next year's 10k Sponsored Charity Walk 'The Waterways of Shepperton'(thepeterroutley@yahoo.co.uk) The Rotary Club does all the organisation of the route, marshalls, permits etc., all you have to do is enjoy the walk and raise money for your favourite cause.