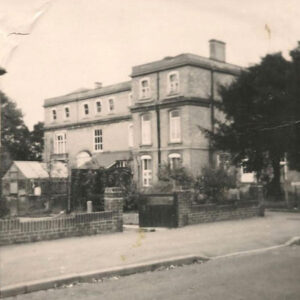 Until 1973, a large three-storied mansion still stood in The Grove, Walton, between Terrace Road and Carlton Road, on a plot of land surrounded by Grove Crescent.
It was all that remained of the Rectory Manor of Walton, one of Walton's richest and most ancient estates. It originated in the Middle Ages as a tithe farm where payments in corn and livestock were collected on behalf of the Chantry of All Hallows, York Minster, which had bought the tithe rights from the Manor of Walton Leigh (as in the Old Manor House in Manor Road) in 1413.
The Chantry was responsible for appointing vicars to Walton church and the house was still known as the Parsonage in the 19thcentury although the vicars had not lived there for four hundred years. The Chantry of All Hallows was abolished in 1547 and the freehold passed to the Crown which continued to lease out the estate. As the value of the land increased, so did the status of the Parsonage and the income became the largest from land in Walton.
The estate had several tenants and residents through the 17th Century, including the Drake family who seem to have purchased it from the Crown, and in around 1670 they sublet the Parsonage to the Dowager Duchess of Somerset. The mansion was probably rebuilt around 1710 as a modest Queen Ann style house.
In 1868 the house and estate, which by now amounted to only about 30 acres of land, was acquired by Paul Cababe, a lawyer, who added extensively to the house, now called Walton Grove. A wrought-iron balcony bearing Cababe's initials, the Lion of Judah and the Star of David was still attached to the west side of the house shortly before its demolition.
It remained with the Cababe family until 1933 and, heavily Victorianised, had little left of architectural merit. Several old fireplaces and 16th/17th century chimney stack remained with a staircase decorated in marquetry. The mansion itself was converted into flats and the land immediately around it was built upon. During its demolition, some early bricks, possibly Tudor, were found to be mixed in the foundations. Flats occupy the site today.
References: A Short History of Walton-on-Thames. Michael Blackman, Walton and Weybridge Local History Society, 1989. Walton and Weybridge: A Dictionary of Local History. George Greenwood, 1983.