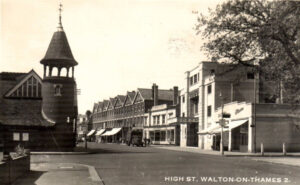 This postcard, dating from just after the Second World War, looks north along Walton High Street, with the Odeon cinema on the right, and the library with its distinctive conical-roofed tower, on the left.
The cinema was originally known as The Capitol, and opened in 1927. At first it only showed silent films, despite the first 'talkie', The Jazz Singer starring Al Jolson, having premiered the same year. The cinema's own orchestra, The Capitol Players, accompanied the films. It was not until the latest Western Electric sound system was installed in 1930 that sound films could finally be shown.
The manager for the first ten years of its existence was Clifford Spain, a great film enthusiast who made his own movies of life in and around Walton. After World War Two, the cinema was taken over by the Odeon chain, which continued to run it until closure in 1980. The building was subsequently redeveloped, but appropriately the Everyman Cinema (formerly The Screen) occupies part of the site today.
On the opposite side of the road the former Walton library, currently the Citizen's Advice Bureau, has a much longer and more complicated history. The site was acquired in 1827 by local trustees to build a National (i.e. Church of Engalnd) School. In 1858 the older children moved away to a new school round the corner in Ashley Road, which still exists as Ashley C. of E. Primary School.
The classes for infants remained in the old premises, which was rebuilt in its current form in 1884. In 1931 these classes in turn moved to Ambleside Avenue and became Ambleside School, now known as Walton Oak School.
The old school became the Labour Exchange for a couple of years, after which the Walton Public Library moved in. After more than 70 years this also moved away when a new library was created as part of The Heart shopping centre development, opening in 2006.
If you are interested in the history of Walton-on-Thames, a limited quantity of publications of the former Walton and Weybridge Local History Society are still available from the Sunbury and Shepperton Local History Society.
See www.sslhs.org.uk for details.