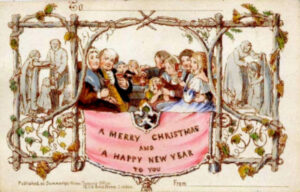 John Callcott Horsley, (January 29, 1817 – October 18, 1903, ) was a British narrative painter best known as the designer of the first Christmas card. Created in 1843 for Callcott's friend Sir Henry Cole.
Cole was a very busy man who didn't have time to write to all his family and friends at Christmas time, so he turned to his friend Horsley to illustrate his idea. An edition of 1,000 cards was placed on sale in London.
It was lithographed on stiff cardboard, 51/8 by 31/4 inches, in dark sepia and hand-coloured. The card is a triptych; the centre shows a family party in progress, beneath which is the greeting "A Merry Christmas and a Happy New Year to You." The side panels depict acts of charity, with the poor being given food and clothing.
It was the most popular card of the Victorian Era. It caused some controversy because it depicted a small child drinking wine.
He also designed the Horsley envelope, a pre-paid envelope that was the precursor to the postage stamp That year, over a thousand cards were printed and sold for a shilling each. In 2001, one of the eighteen original cards which are known to be still in existence was sold at auction for £22,500. This card belonged to Cole's grandmother and she received it in 1843. As a painter he was called "Mr. J. C(lothes) Horsley" because of his protests against paintings of the nude.
A pupil of the Royal Academy, he achieved popular success before the age of 20, although he was criticized for his failure to master the fundamentals of structure and movement because of his reluctance to study the nude model.