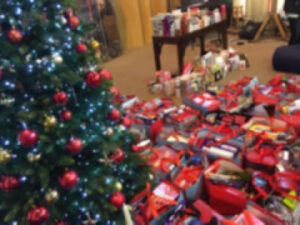 Christmas has been and gone, but we continue to live in a storm of political and economic upheaval and uncertainty. Hysterical idiots of all political persuasions bellow and boom at us, and seem unconnected to the world we actually live in.
At the core of our activities is our Community Foodbank. We continue to provide an important 7-day practical parcel, to fill an emergency gap solution. Each month the Community Foodbank takes over 5 Tonnes of surplus food, that equates to 10,000 meals a month.
The Community Food Bank also has other related programmes. One is a Recovery Programme for people struggling with addictions. Community Recovery is aimed at helping by trying to break their chains of addiction.
In addition we hold a Community Lunch, mostly from surplus food, every Wednesday, from 12noon to 1.30pm. All our welcome at this Community Lunch where people can make friends, as well as sharing experiences. This was extended to cover the 6- week holiday period during the school holidays, where last year we helped some 50 families
Spelthorne Borough would like to make Sunbury a "Dementia Friendly" village and St Saviour's was happy to help by providing some facilities to run Training Courses on this. We were able to run 10 Training Courses in 2018, resulting in over 250 people becoming a "Dementia Friend".
In June 2018, we held a Kick Start day. After months of planning, the Community Food Bank team joined members from the Johnson and Johnson workforce. We were out in the community all day giving a helping hand decorating, making new furniture, filling skips with rubbish and doing some gardening.
We launched our third year of the Reverse Advent Calendar in 2018. Last year we challenged people to do something a little different, by creating an Advent Calendar that you put something in, instead of taking something out of. The idea is that you fill a box every day with non-perishable items, that can be taken to the local Community Foodbank. Last year we collected over 270 boxes.
In June we aimed to feed 5,000 people with Surplus Food from the local supermarkets. We fed over 2,000 people at the Joy@Kempton event. The rest of the food went into London and by 1.35pm on the following day, we had confirmation that we had achieved feeding 5,000 on the Surplus Waste Food that we had sourced.
Finally, the Give a Christmas Gift campaign was our most successful yet, with over 350 children receiving a donated Christmas present.
The Community Foodbank is the conduit that channels the donations that we receive to those that need it most, in the most efficient way, using our volunteer work force. With the money that we are hoping to raise from events next year, we want to increase the range of our services to meet what will be, for certain, an increasing demand at all levels.
Claire Hopkins, St Saviour's Church
claire.hopkins@stsaviourssunbury.org.uk