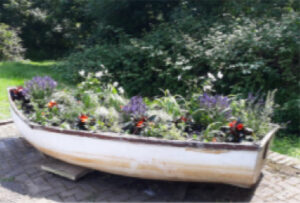 In the May issue of Sunbury Matters we mentioned in our welcome page that the Lower Sunbury Business Community (LSBC) had plans to erect a boat filled with flowers on Thames Street. Group members were very keen on this idea. Partly it would fill an empty space (where the old public loos used to be!) and of course it would brighten up the village.
These things take time to happen though. The project was being undertaken by our hard working members, so coordinating it was not easy. The boat had been donated but had to be rowed a little way along the Thames, then carried over Rivermead Island. In the end, that part of it happened before the rest of the exercise (ie filling it with flowers) could be completed.
So the story of the abandoned boat started! It sat there, on the empty platform, for 3 days, before someone decided it must be yet another instance of fly tipping and that really something had to be done. So they took the boat! Members of the LSBC were horrified and so disappointed. So we put out a call on Facebook for anyone who knew anything to get in touch.
Blow me over if by 8am the following day I received a call "It's back"! The boat also had a very polite note on it saying sorry for causing any distress but that it did look rather abandoned! Thank you so much for returning it.
Now members rallied round. Holes were drilled (for drainage and to make it less interesting for anyone who thought it might make a nice summer toy). Rubble was thrown in for hardcore. Finally on the first available Saturday (which happened also to be my birthday) an enthusiastic group of members got together in the sunshine to make this abandoned boat into a thing of beauty.
Well, what a fantastic community project it is.
As we toiled away, passers by would stop and talk to us, motorists slowed down. We had hoots of appreciation, shouts of "well done" from passing cars and a great feeling of happiness and satisfaction from our little group of workers. One lovely man (you know who you are!) brought us a bag of orange lollies to refresh us as it was getting hot. Some of the plants were donated by Sue March from the Sunbury Open Gardens event which boosted our own purchases and topsoil was donated and delivered by PTL.
By coincidence Spelthorne Council were putting up the flowering baskets (also paid for by the LSBC) and they came along and watered the flowers when the planting was complete.
The feedback on social media has already been amazing. The boat will be dedicated to Gerry Ceaser, former Mayor, Spelthorne councillor, long term Sunbury resident and one of the founders of the Lower Sunbury Business Group.
Gerry's widow, Zandra Ceaser was overwhelmed:
"I cannot describe the way I feel every time I walk past 'the Boat'. It is really beautiful and I cannot thank the Lower Sunbury Business Community enough for such a wonderful tribute to Gerry. The fact that it was "stolen" and returned following your post on the internet just adds to the depth of respect that people do have."
For more info on LSBC contact Monica:
monica@villagematters.co.uk.