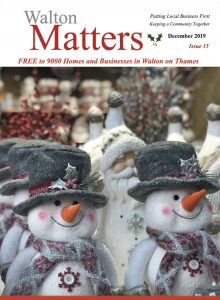 Happy Christmas Walton! The Festival of Lights has already come and gone, and Christmas is now firmly in sight.
This month we look at the Christmas Carol story, the history of both Christmas baubles and the Christmas tree, and how to have a crisis free Christmas. We look at how to care for our hedgehogs during the cold season, tips for driving in winter , and dig into the history of The Bear public house.
We continue the series on Walton's blue plaques, give a guide for coping with the infamous office Christmas party, and look at how to avoid Christmas allergies flaring up.
Our local MP, Dominic Raab, does not feature this month due to the General Election.
I hope you all have a fantastic Christmas and look forward to seeing you all in 2020.