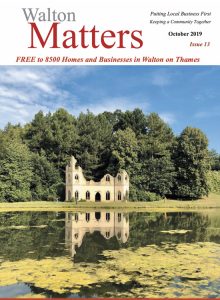 Summer is finally coming at an end. Children are back at school and dare I say it, Christmas is around the corner. Get ready for the Santa Fun Run, page 33 Where does time go? As we hurtle towards darker evenings, don't forget the clocks will go back on 27 October at 2am.
This month we celebrate the 30th birthday of Creative Quilting in Bridge Road, Molesey. Congratulations Valerie. Following an inspiration by a reader we take look at litter picking, and we also hear form our own John Pulford writing about another Walton pub from the past. For those of you who love beautiful scenery and walks I can thoroughly recommend Painshill Park. See Page 12, discount for readers included.
Remember to put in your diary the Festival of Light, this year falling on the 23rd November. It's always a special event.
We also give you a glimpse of local comedy and look back at the Great Storm of 1987.
Enjoy reading and see you in November.