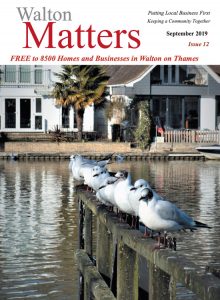 This issue marks our first year of Walton Matters. Happy Birthday to us!
Time has flown so fast, and I can honestly say I have enjoyed every minute. I have met so many incredible people and I have learned so much more about the community in which we live.
This month we focus on schools. We discuss subjects as diverse as pastoral care, what to think about when considering an independent school, could hypnotherapy help your child, what are parental expectations regarding a school and exactly what do you need to know when looking at Prep and Pre Prep Schools.
Clearly don't forget it's Heritage Day this month. Full details are on pages 32 and 33. Do come along and have fun. Big thank you in advance to all who help make the day possible. Such a great community event.
In the issue we also look at the history of Walton's dental business and local resident John Pulford explores another lost local ale house.
The courgette bake from the Community Café at the River house Barn also looks yummy. See page 34.
Enjoy the issue and see you next month.