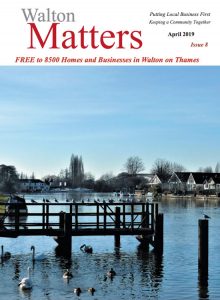 Welcome to the April issue. The clocks have gone forward and the evenings are starting to get lighter. Spring is pushing through. Time to get the garden in order.
Easter is upon us. Take the kids to the egg hunt at Hampton Court Palace. It's always a hoot.
In this issue local historian John Pulford begins a piece on the history of Walton's pubs. The WOTTA Mum also looks at family-friendly activities in and around the local area.
Perfect for the Easter break
Did you know Baseball began in Walton? Read about it on page 10. A special event to commemorate is being planned. Of that, more next month.
Also 'The Folk Festival' is coming, as is the 'May Fair'. Go to page 14 for details.
Dominic Raab, who I guess as I write this is a busy man,
also updates us on all things
Walton.
Enjoy April and see you next month.