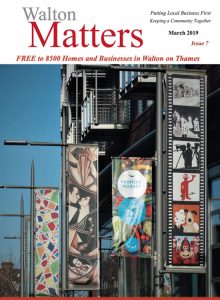 Here we are in March. Spring is almost upon us. There are two main things to remember this month, and luckily this year they are both on the same date. Firstly do remember that on Sunday 31st March at 1am the clocks go forward one hour signalling the start of British Summer Time (BST). Secondly don't forget Mother's Day, same date, Sunday 31st.
In this issue we also look at the history behind Apps Court, we hear of Social Prescribing and The Walton Charity and we visit the Royal Mews Horse Rangers. Walton Bowls Club gets ready for the new season, and The Walton Blind Society take us through their history and bring us up to date with all their good work.
We find out who won the Elmbridge Business Award and we hear how Elmbridge Renstart and The Walton Charity are helping the borough's homeless, lonely and vulnerable.
Take care and see you next month