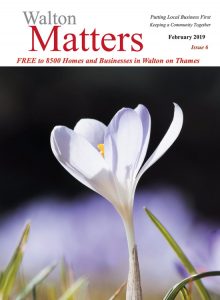 Welcome to the February issue. 2018 is now long gone, and I have noticed recently that it is just starting to stay a little lighter longer as we go through the day. Things are on the up!Living by the river, as I do, I am also grateful that we have experienced no rising water. We really suffered in the floods of 2014.
In this issue, local historian John Pulford tells us more of Mount Felix, and we also hear of Canaletto's beautiful painting of Walton Bridge.We take a peek behind the history of HWM, Walton's purveyors of Aston Martin , and we also take a look at a true Walton film star, Julie Andrews.
Don't forget Valentine's Day on the 14th. Did you know that it actually has a very dark beginning? Find out more on page 9.
Take care, wrap up, and I will see you again in March.