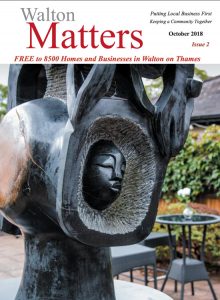 Welcome to our second issue. I really hope you enjoyed issue 1.
Thank you so much for all your emails of support and encouragement. Welcome to our new advertisers. We seem popular!
The best comment I received was "It's just what our community needed". It makes me very happy, as that is exactly the point.
We are a community magazine first and foremost. So please keep your comments, stories and events coming. We are here for you. My email address and phone number is at the bottom of many of the pages.
This month we look at Turners' association with Walton Bridge, hear of a US President who was once a resident, and also look at the history of the Swan Hotel. Halloween is almost upon us, so we take a look at the origins of Mary Shelly's
Frankenstein, whilst also learning of the Mexican Festival "The Day of The Dead". Last month's 'Great Stink' article is followed up by learning of the Victorian solution.
We look at the history of Ashley Park and review last month's Heritage Day. Della continues her Urban Wildlife blog, and our very own MP, Dominic Raab, updates us on all things Walton.
What a good sport he was too, abseiling down St Mary's!
Ashley Park
Hoover
The Swan