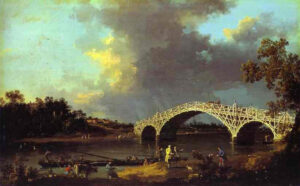 In 1747 Samuel Dicker, local landowner and later MP for Plymouth, obtained permission to build a bridge at Walton. It was designed by William Etheridge and built by White of Weybridge to consist of "timbers tangent to a circle of 100 feet diameter" and was built so that a single timber could be extracted and repaired without disturbing the rest of the bridge.
Old Walton Bridge was completed in August 1750 and acquired some fame, meriting an article in the Gentleman's Magazine, a report in Daniel Defoe's Tour in 1753 and a painting by Canaletto in 1754. The painting, which shows the rococo-style of this bridge, is in Dulwich Picture Gallery.
The timber structure stood approximately 33 years, that is, until 1783. A report on the condition of the bridge in 1778 suggested that decay in the wooden frame made it unsuitable for use and it was dismantled five years later.
Canaletto spent time in England between 1746 and 1755, mostly in London, but at some time after 1750 he travelled out to Walton to produce a painting of the bridge. Normally the figures populating his landscapes were anonymous, but his painting of the bridge is unusual because the identities of several of the figures are known. In the centre of the painting on the near bank, two figures can be seen standing together; to the left is Thomas Hollis who commissioned the painting from Canaletto, and almost certainly requested that he be included.
It is likely that Hollis selected the image from a sketch in Canaletto's portfolio, as the painting omits the stone abutments that were added in 1751. To Hollis' right is Thomas Brand, his lifelong friend and heir. Further to the right, dressed in colourful livery, is Hollis' servant, Francesco Giovannini, and at the feet of Hollis is his dog, Malta. Seated a little distance from the central group on the left (with a cow looking over his shoulder) is an artist thought to be Canaletto himself.
In the river a ship is lowering its sail in order to pass under the bridge. With the towering storm clouds forming above the bridge, Canaletto contrasts the forces of nature with the work of engineering below; the painting is the only of his English works in which he attempts to capture the weather.
Samuel Dicker's house at Mount Felix can be seen in the rear of the picture to the left of the bridge, but Dicker – probably after seeing Hollis's painting – commissioned a different view of the bridge from Canaletto in 1755 in which his house can be seen more clearly and the full extent of the bridge works that he had funded (including the extensive stone abutments) is obvious.