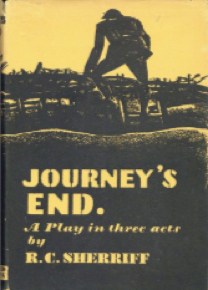 Robert Cedric Sherriff was born in 1896 and educated at Kingston Grammar School and New College, Oxford. On the outbreak of the First World War, he joined the army and served as a captain in the East Surrey regiment.
Once the war ended, an interest in amateur theatricals led him to try his hand at writing. R.C Sherriff wrote his celebrated play Journey's End in 1928, ten years after the end of the First World War. Praised for capturing the claustrophobia and viciousness of trench warfare and the nature of life and death on the western front, the story begins on the evening of Monday 18 March 1918 and continues over three days. Journey's End is a 1928 dramatic play, the seventh of English playwright R. C. Sherriff.
At first, Sherriff struggled to secure a West End performance of the play with many potential producers concerned that audiences would not want to watch a production about war, not least one without a leading lady or any female characters. After much consideration, The Incorporated Stage Society, a private members society that mounted performances of new and experimental work, agreed to include two semi-staged performances of the play in its Winter programme.
It was first performed at the Apollo Theatre in London on 9 December 1928, starring a young Laurence Olivier, and soon moved to other West End theatres for a two-year run. It was included in Burns Mantle's The Best Plays of 1928-1929. The piece quickly became internationally popular, with numerous productions and tours in English and other languages. A 1930 film version was followed by other adaptations, and the play set a high standard for other works dealing with similar themes, and influenced playwrights including Noël Coward.
Set in the trenches near Saint-Quentin, Aisne in 1918, towards the end of the First World War, Journey's End gives a glimpse into the experiences of the officers of a British Army infantry company. The story plays out in the officers' dugout over four days from 18 March 1918 to 21 March 1918, the last few days before Operation Michael. R.C. Sherriff wrote the play based on his own experiences.
In September 1917 he obtained a commission with the East Surrey Regiment as a Second Lieutenant. Sherriff was sent to France, landing at Boulogne on 28 September 1916. He reached the 9th Battalion, the East Surrey Regiment, at Estrée-Cauchy on 1 October 1916, and served in France until he was wounded in action on 2 August 1917 during the Battle of Passchendaele (Third Battle of Ypres), and was sent back to England for treatment. It is without doubt one of the greatest plays exploring the First World War with a poignant anti-war message. However, its anti-war message is complex.
Histories of the war written in the 1960s present the British commanders as foolish men, far from the front line who needlessly sacrificed the lives of brave men in military blunders, and this idea pervades in the anti-war sentiments presented in Theatre Workshop's Oh! What a Lovely War! and television's Blackadder Goes Forth. Ultimately, it was Sherriff's intention to produce a play which paid tribute to his brothers-in-arms and the virtues of duty, perseverance and comradeship which he experienced on the Western Front Sherriff considered calling it Suspense or Waiting but eventually found a title in the closing line of a chapter of an unidentified book, "It was late in the evening when we came at last to our journey's end". The huge success of his play, Journey's End, published in 1929, in both Europe and America enabled Sherriff to become a full-time writer