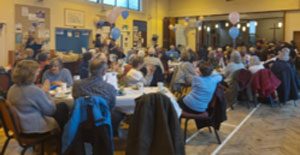 About a month ago we held our annual soup lunch to raise funds for these two worthwhile local charities. Homemade soup and homemade cakes were on offer and Rt Hon Kwasi Kwarteng MP gave a talk in support of charities, and there was singing from our children's choir 'Aloud' and Hanworth Community choir. The Brownies had a bring and buy stall that raised £168. The total amount raised was £923.47. Health Professional Julia Murdoch gave a short talk about how the clients she works with have been supported and the difference made to their lives.
Baby Basics started in Sheffield 2009 when a midwife saw a need to support families to clothe their children and give babies a good start in life. It is now a nationwide organisation with over 40 centres based in churches of all denominations. Local people donate Moses baskets which are filled with basic goods suitable for new-borns; such as nappies, toiletries, baby vests and a toy or two, some knitted jumpers and first size clothes. Health Care Professionals make referrals and request a basket. Our local Baby Basics centre is based at Sunbury Methodist Church and since it started 6 years ago it has provided 805 baskets and 200 gift packs to families in need. The money raised goes towards buying new mattresses and any particular goods they are short of.
It wasn't long before three local volunteers working at Baby Basics Sunbury realised that they were being asked for clothes and equipment for older age children and The Extra Mile was born. This has been running for 4 years and is based at Hampton Mission Partnership (Hampton Methodist Church). Since it started, they have supported over 960 children by supplying cots, bedding, toys, books, highchairs, buggies, clothes, toiletries, nappies, baby bouncers and play mats. These good quality items are mainly donated by local people, but any items like stairgates or new mattresses for cots, need to be purchased new, as well as clothes for older children (5 years to early teenagers) and this is what the funds raised go towards.
The Extra Mile supplied over 40 Christmas presents to referred families this year and also works with the local Hygiene Bank who at Christmas supplied brand new handbags filled with toiletries for the mothers of referred families. Look out for Hygiene Bank drop off points in Sunbury and Hampton if you wish to donate.
Neither charity specifies a catchment area as such but have supported families from Leatherhead to Acton, from Stanwell to Molesey. Those who may be homeless, fallen on hard times or refugees/asylum seekers (who may not have access to public funds).
So, if your New Year's resolution was to volunteer and give something back to the community, we are always happy to have more volunteers.
There are many ways to get involved and you can get in touch below to see how you can help or if you just want to find out more about the sort of things to donate:
babybasicssunbury@gmail.com