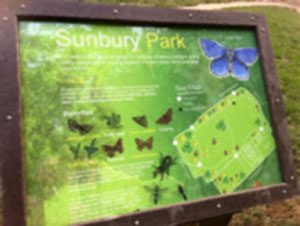 Bramble Bash
On behalf of the Friends of Sunbury Park, a really big thank you to everybody that turned out to help recently at the bramble bash and mulch laying. We had a fantastic group of people of all ages and, after splitting into two groups managed to achieve all the aims we wanted to achieve. This was to a) lay some mulch to prevent the area around the entrance gate getting too muddy over winter and, b) clear the area by the gate of bramble, which, if left for much longer would have been difficult to deal with. The volunteers had a great time whilst carrying out such worthwhile activities. Even the weather stayed kind.
New Signage in Sunbury Park
Following our successful bramble bash the Friends of Sunbury Park are delighted to announce that we now have new signage in the park. The four signs (one by each entrance) , illustrate some of the nature (trees, birds, insects and flowers) that can be found in the park. Made of recycled material, the signs have been placed at a height that will allow both adults and children to read, investigate and discover what can be seen.
The signs are a result of collaboration between The Friends of Sunbury Park and the Parks Dept of SBC. Thanks go to Steve Price at the council and Members of FoSP for the writing, editing and installation of the new signs and we hope this enhances your experience and enjoyment of Sunbury Park.
Litter Pick
Finally, Friends of Sunbury Park held their litter pick on a lovely sunny morning and an amazing 15 bags of rubbish were collected from around Sunbury Park. Big thanks go out to all 14 residents who turned out to collect litter. In addition, big thanks to those dog walkers who, whilst just turning up to walk their dog, offered to take a bag and picker to help collect litter. It's great that we have so many residents who value Sunbury Park and want to help maintain a conserve it.