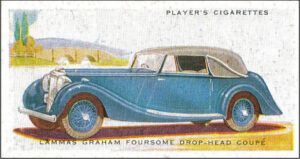 It may surprise readers to learn that the Spelthorne area was home to several automobile makers between the wars, including Lagonda, Tamplin and Atalanta at Staines, and Lammas at Sunbury.
Lammas was the brainchild of Eric Lubbock, 3rd Lord Avebury, who thought that combining a locally built body with the Graham chassis and engine from the USA might be a winning formula. The resulting cars would be known as Lammas-Graham. Lord Avebury's fellow directors were Michael Richardson, whom he had met while up at Cambridge, and Frank King, who had been Lagonda's sales manager. Several other staff also came from Lagonda.
The Lammas factory was established in 1936 in Hanworth Road, not far from the PIM board works where the compressed fibre-board used on the Tamplin cyclecar bodies was made. The 3.25 litre supercharged Graham engines and chassis arrived in packing cases from the USA, and were fitted with bodies manufactured by British coachbuilders.
The first car was an open tourer with coachwork by Abbott of Farnham, followed by four-door saloons mostly by Ranalah of Merton, drop-heads by the Carlton Carriage Co, of Shepherd's Bush, and two by Bertelli, one of which was exhibited at the 1937 Motor Show. Bertelli were the 'in house' coachbuilders for Aston Martin, who were based nearby in Feltham at the time.
The cars were quite expensive, the chassis was available for £510, the tourer cost £675, a two-seater £695 and saloon, sports-saloon and drop-head £735 (£51,000 today) each. 'Extras' could be specified by customers, such as wheel-discs in special colours for 14 guineas, leather upholstery cost a mere £2.10s, an inside mirror was 10s 6d, and a licence-holder 7s 6d. Lord Avebury did his best to publicise the cars, selling several to his aristocratic friends, and Frank King made the most of a sale to the well-known boxer of the day, Tommy Farr, the British and Empire heavyweight champion.
Avebury also raced his Lammas-Graham several times at Brooklands, and took part in a 3 hour marathon around the banked circuit, to prove the car's endurance. After two years though, only a few dozen of these relatively expensive cars had been sold, and Lammas called in the receivers.