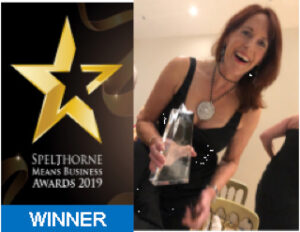 Shepperton Studios glamorous Orangery was full to bursting at the black tie dinner for the second Spelthorne Means Business Awards. 12 categories celebrated all sorts of businesses large and small across the borough. It is a great initiative to support business in the current challenging climate.
It was a chance for Spelthorne borough to showcase the very best, showing that it really does mean business. Being shortlisted is an achievement in itself. Guest speaker was the inspirational Julianne Ponan from Creative Nature who had triumphed over a life threatening condition, braved Dragons Den on TV, been rejected, made some mistakes along the way and then gone on to amazing things. She has more awards than you can shake a stick at but she humbly says they mean nothing compared to the achievement of building a brand, being positive in what she does and being surrounded by a fantastic team.
Therein was a message for all the businesses in the Orangery at the awards.
But awards were the order of the night and we were all eager to hear how we had fared. The winners of the 12 categories were as follows:
Exporter of the Year – Experium
Creative Business of the Year – Stars Performing Arts
Best New Start up – Nicola Ann Photography
Healthy Business Award – Harfield Dance
Best Business in Staines- McDonalds
Best Independent Business – Homeplay
Best Small Business – Hot Yoga Club
Best Business in Staines – Joint winners: The Thames Club/Vida Homeloans
Best Business in Ashford – Blackstone Printing
Best Business in Sunbury – Village Matters
Best Business in Shepperton – Quality Fruit
Best CSR Business – Quality Fruit
So within that list Sunbury can celebrate the Harfield Dance Studio and also Homeplay. But you might also notice Village Matters which won Best Company in Sunbury – that is the company that produces Sunbury & Shepperton Matters of course….ME!! Oh my gosh. What an honour.
The family run Quality Fruit & Flowers smashed it too. CSR stands for Corporate Social Responsibility, in other words doing their bit for the community and being socially accountable. Up against the powerhouses Tesco and McDonalds, this innovative business, constantly reinventing itself, constantly looking for new ideas to reduce waste and improve our planet won the trophy! If you have not visited their shop yet, do go. 64, High Street, Shepperton.
But the evening had not yet concluded. Of the 12 winners announced, judges had selected 3 overall winners representing the Best in Spelthorne. And the winners were…..
3rd Stars Performing Arts
Runner up VILLAGE MATTERS!!!!!!!
Winner Quality Fruit & Flowers.
What an amazing result for small businesses.
We are needless to say overwhelmed and delighted. Congratulations to everyone who was shortlisted and who won.
If you didn't take part, get thinking about 2020 and make sure you do next year!