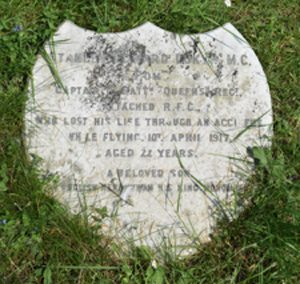 Should your wanderings ever take you along the paths between the memorials and headstones of Sunbury Cemetery, take a few moments to stroll along the western side of this tranquil corner of our town. During your walk you'll find a small, white stone, in the distinctive shape of a 'Blue Peter Badge', which bears the name of Stanley Edward 'Pom' Lukyn, who died 102 years ago, aged only 22 years. The tragically short life of this young man, a member of our community, is largely forgotten but Stanley Lukyn was one of the rarest of things, a genuine hero and a man whom we should remember with pride and reverence.
Stanley was born in February 1895, his parents were Edith and Herbert, the latter a dental surgeon. The family home, 'Weir View', Thames Street, was on the river, opposite St Mary's Church. Stanley attended Hampton Grammar school and distinguished himself as a sportsman, he was tall, (six feet) long limbed and athletic. His P.E. teacher in a report, which is still held by Hampton School, praises Stanley but gives a gentle admonishment that in rugby he, 'tends to hog the ball'. Happily this flaw wasn't enough to prevent his peers voting him 'Best All-Round Boy in the School'.
Stanley clearly had an adventurous spirit, because by 1912, age 17 he was working as a clerk aboard the 'Royal George', a passenger liner of the Canadian 'Royal Line', traversing the northern Atlantic between Bristol and Montreal. It was perhaps during this period that Stanley collected the nickname 'Pom', a mildly, derogatory term for an Englishman. Disparaging or not, Stanley wore the name with pride, it even appears on his gravestone.
December 1913 found Stanley in a more settled role employed by Drummonds Bank in Charing Cross (now part of RBS), a position he held until six months after the outbreak of war, when aged 19 he enlisted in the Royal West Surrey Regiment. He was commissioned as a 2nd Lieutenant in March 1916, aged 21, three days later he was in a trench on the Western Front as a platoon commander.
Stanley 'Pom' Lukyn
2nd Lieutenant Stanley Lukyn was immediately tasked with a mission, to find a route across 'No-Man's-Land' to the German line. This required him to repeatedly clamber from the safety of his trench, night after night, crawl through the tangles of the British barbed wire, and traverse the open ground to approach the German wire. This hazardous journey was regularly lit by parachute-flares, shot over the battlefield with the intent of illuminating individual targets for the ever-present snipers. Mortar and shellfire were also a constant danger. As Stanley slithered through the mud, littered with shell-holes, unexploded ordinance and numerous bodies in terrible states of mutilation and decay, he had to record his route meticulously.
Once he reached the German wire his task became even more dangerous as he searched for a path forwards, through the enemy wire, to the very edge of the enemy's trench. It's worth remembering that Stanley was 21.
His nightly excursions succeeded. On the night of 22nd March 1916, Stanley Lukyn led his 30 men in a raid on the German line. Re-tracing the route he had discovered, he took his men to the German trench and attacked it. Stanley personally 'bombed several dugouts' accounting for a number of the enemy. Having successfully carried out the raid he lead his men back to the British lines without a single loss. It was a remarkable accomplishment.
Stanley was promoted to Captain and awarded the Military Cross for "marked courage and initiative while carrying out reconnaissance of the enemy wire" and for " coolness and initiative" in leading the successful raid.
In March 1917 Captain Lukyn, seeking a new challenge, transferred to the Royal Flying Corp to begin pilot training. This was a monumentally courageous thing to do. The life expectancy of a pilot on the Western Front in 1917 was measured in days, if you even made it to the frontline. Of the 14,000 RFC pilots who were killed in The Great War, 8,000 died in accidents, a staggering 57%.
Farman 'Short-Horn' Trainer Aircraft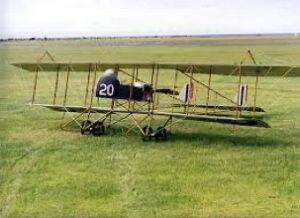 On 9th April 1917, on the 10th day of his pilot training, in company with his instructor, Captain Harrison, Stanley took off from Northolt Aerodrome in his trainer aircraft, a Farman 'Short-Horn'. At a height of 600 feet the aircraft entered an uncontrollable spin and crashed. Stanley Lukyn's back was broken and he suffered massive internal injuries. He couldn't be saved, at 5am the next day, 10th April 1917, Stanley died of his injuries, he was 22. An investigation had to wait 6 months for Captain Harrison to recover enough to give evidence, an aircraft fault was found to be responsible.
Stanley Lukyn was buried in a quiet corner of Sunbury Cemetery with full military honours, less than half a mile from his home. Along with another 120 names of Sunbury's fallen, that of Captain Stanley Lukyn M.C. is recorded on the Green Street Memorial. Sunbury should be proud of him, and more importantly, remember him. I encourage you to visit his grave. He rests in peace forever nearby.