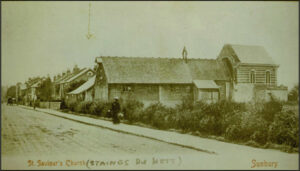 When the railway arrived at what was then Sunbury Common in 1864, the area surrounding the old turnpike road from Hampton to Staines was mainly open fields.
The village of Sunbury was clustered around the parish church of St. Mary's by the river, about a mile away from the new station. However the convenience of being located near to the station soon attracted developers, and houses, shops, pubs etc. soon began to be built in the vicinity, leading to the development of what became known as Upper Sunbury (the original Saxon settlement being called Lower Sunbury or Sunbury Village).
In an age when church attendance was higher than it is today, the rapidly increasing size of the population of Sunbury, coupled with the distance people had to travel to church, led to demands for a church to be provided in Upper Sunbury. These demands bore fruit in 1870, when a 'tin church' was opened as a daughter church of St. Mary's, on a site in Staines Road West which had been given for the purpose the previous year. These so-called 'tin churches' were made of corrugated iron sheeting, and could be purchased in kit form in various sizes from suppliers.
The original tin church was of course only regarded as a temporary measure, and by 1881, when the Ecclesiastical District of St. Saviour's was created in its own right, a brick building replaced it, which is the building shown in the photo. It seems however that a still larger building was contemplated, and in about 1893 work began on an enlarged church, with the construction of a new Lady Chapel at the altar end (unusually for a church, the altar was on the north rather than the east, no doubt due to the limitations of the site). This is the higher section to the right of the photo, constructed from alternate layers of brick and stone which give the 'striped' effect.
In 1886 the vicarage for the church was erected some distance away, on land given to the church by the Misses Gough. It gave its name to Vicarage Road. It may be that this was what decided the parish authorities to abandon work on rebuilding the church in Staines Road, in favour of a new church adjacent to the Vicarage, the current building. The old church, no longer needed, was sold off, becoming a garage for many years before being demolished in 1971 to make way for offices. A plaque on the building marks the site of the original church.
'The History of Ashford Hospital' by Nick Pollard will be the subject of the next meeting of the Sunbury and Shepperton Local History Society, on Tuesday 15th October at Halliford School, Russell Road, Shepperton. The meeting starts at 8pm and all are welcome, £2 for non-members.